I AM BACK! For real this time.  I am almost thankful that I am currently sick because it has finally given me some time to work on my blog. I am not sure how it happened but a few days ago I felt like I got hit by a bus, literally. I had a terrible fever and muscle aches and I was trying to figure out where this was coming from. A few people at work had the flu but then I remembered my niece had hand foot mouth disease. It also so happened we spent all weekend together and we shared a chocolate cupcake together last Sunday too. I convinced myself I wasn't going to get it because adults never really get symptoms from it so I thought I was in the clear. Yah, well I thought wrong.  I might be a part of the VERY select few adults spending there 24th birthday weekend with hand-foot-mouth disease.
Along with all of that fun stuff, I have been in the process of getting a new camera! I am trying to get accustomed to it but so far I am in love. Before, I was using a Nikon D5000 which was a great camera but there was a really great deal for a Nikon D3300 and it was time for a change. The iso sensitivity is awesome and it came with a tripod, different filters and lenses which makes it even better. I am hoping this post is one of the last with the old camera.
So about two weeks ago, I helped decorate a baby shower my very good friend of mind was hosting for her sister-in-law. They had decided to go with a Vintage Nursery Rhyme theme and I was completely obsessed with that idea. I had free range so I let my mind go crazy. So this is going to be a long post with a lot of small instructions in between with how things were made! I hope everyone loves it. (Also, an apology for the lack of light in the photos. There were zero windows at this venue. I am blogger not a professional photographer so I completely depend on natural lighting to get the best photos, but you will get the idea of what I was trying to achieve regardless)
---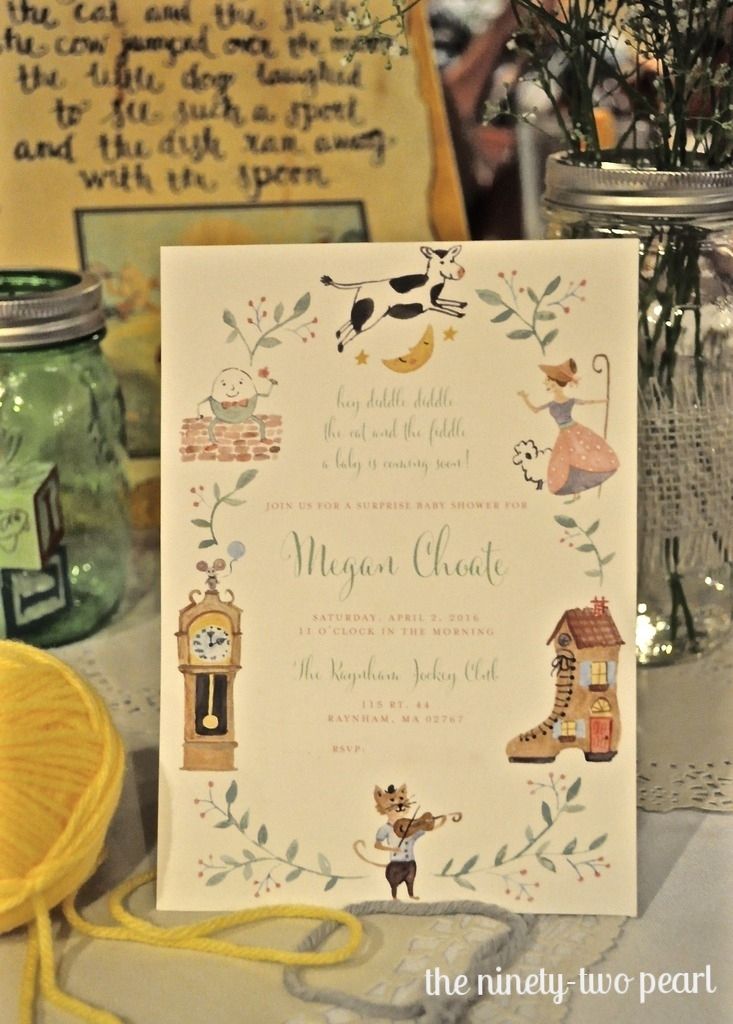 So it weirdly took us a while to find the perfect invitation and we finally did after at least two weeks of searching. Don't get me wrong there are a decent amount of Nursery Rhyme themed invitations but we wanted it to look a little bit more vintage. So we went with this invitation for the baby shower!
I always have chalkboard signs around the house. I use them with parties and just to decorate so we used them all around the party.  I can thank Target's $3 dollar section for most of the glassware surrounding the sign. That section gets me every time! I never leave that store without at least 5 items from that section.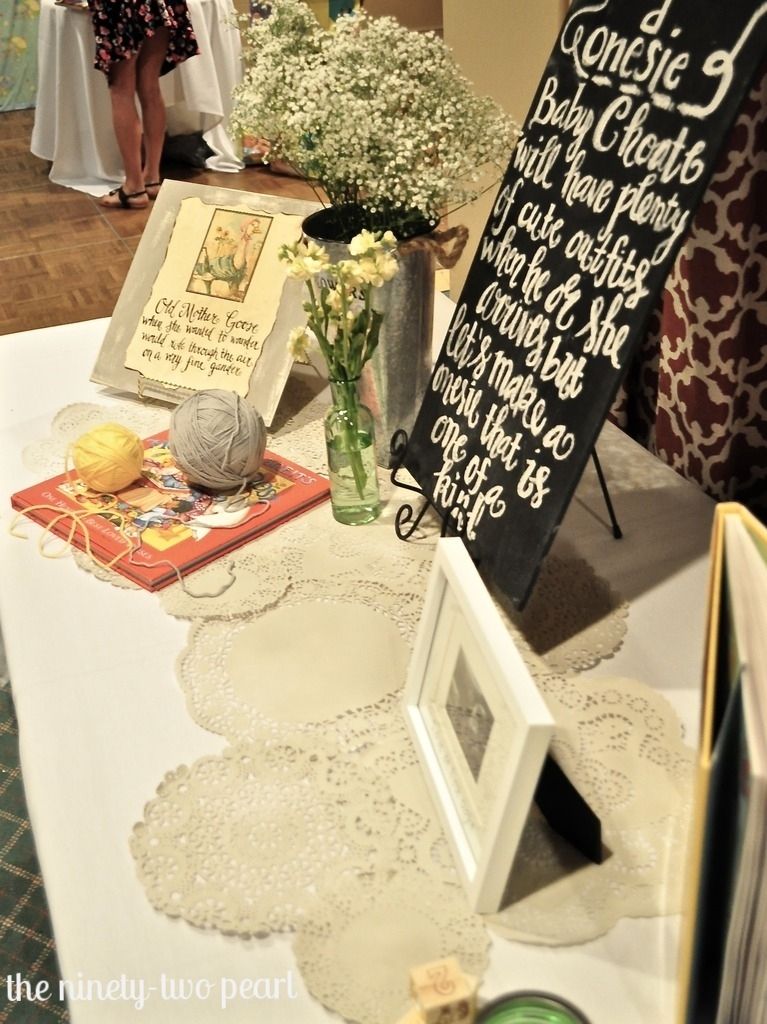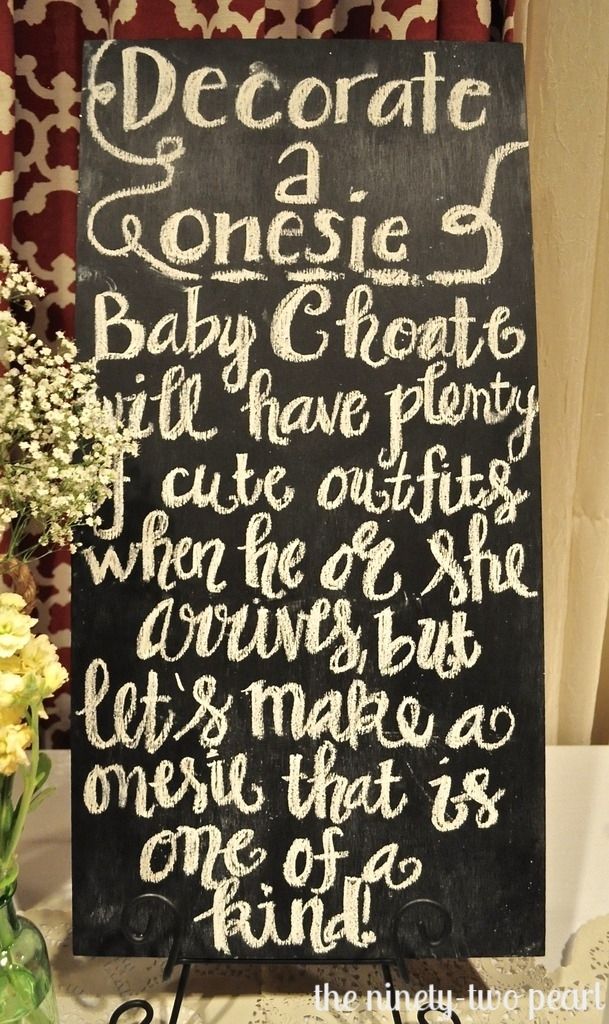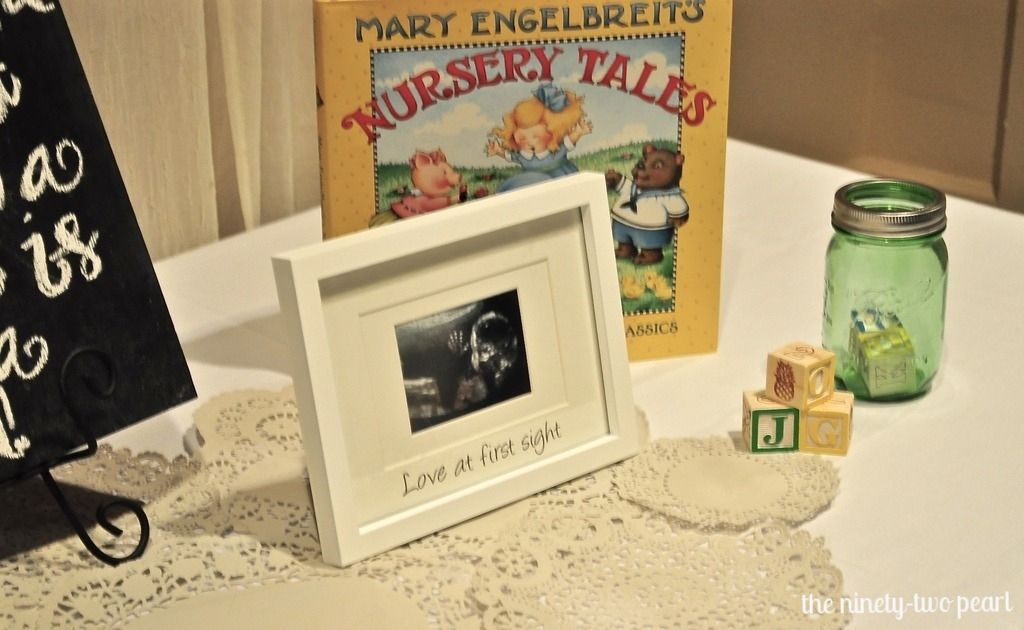 The first table when you walked in explained the onesie instructions. It was a really cute idea. Everyone had there own onesie at there table with fabric markers. It worked out really nicely.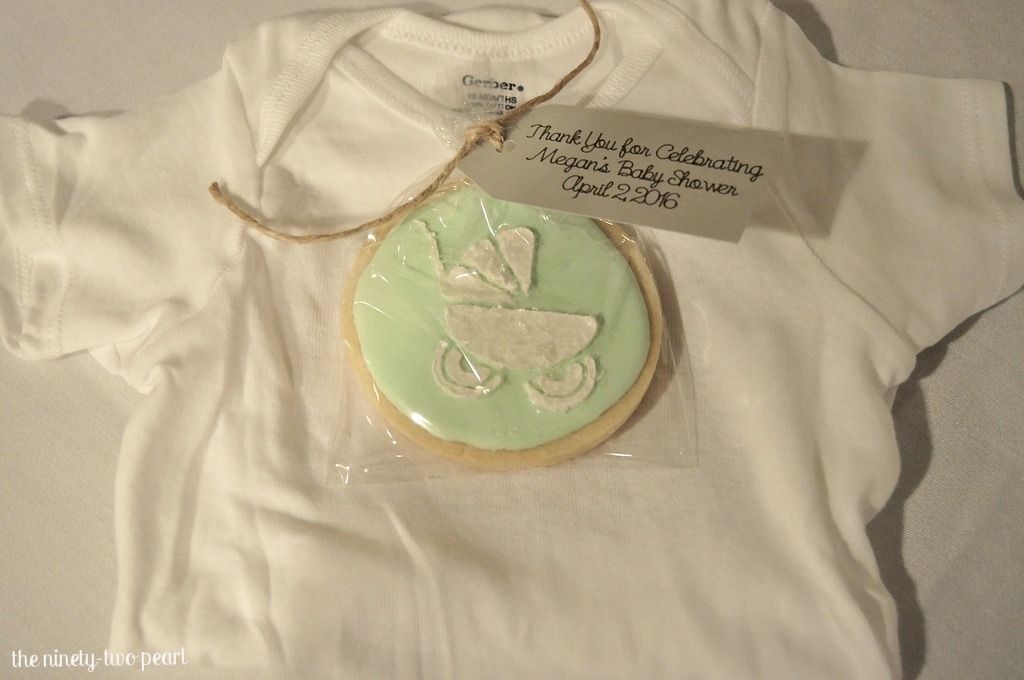 So a while back, I went to a cake decorating class. I was never crazy into it but then most recently I started making sugar cookies. I have finally found decorating sugar cookies to be calming versus the constant stress it would bring me. I used some stencils that I bought from the Cookie Countess. She has some really amazing stencils that will take your sugar cookie to the next level.
I also used my Cricut to make the "C" stencil and I was so happy with it! It worked out amazing. I will definitely have a post showing everyone how to make a cookie stencil with the Cricut. The tag that was tied on each cookie was also made with my Cricut Explore. It was so awesome because it wrote it all out and it also cut it out. It saved me so much time!!!! I highly suggest a Cricut to anyone who does not already have one.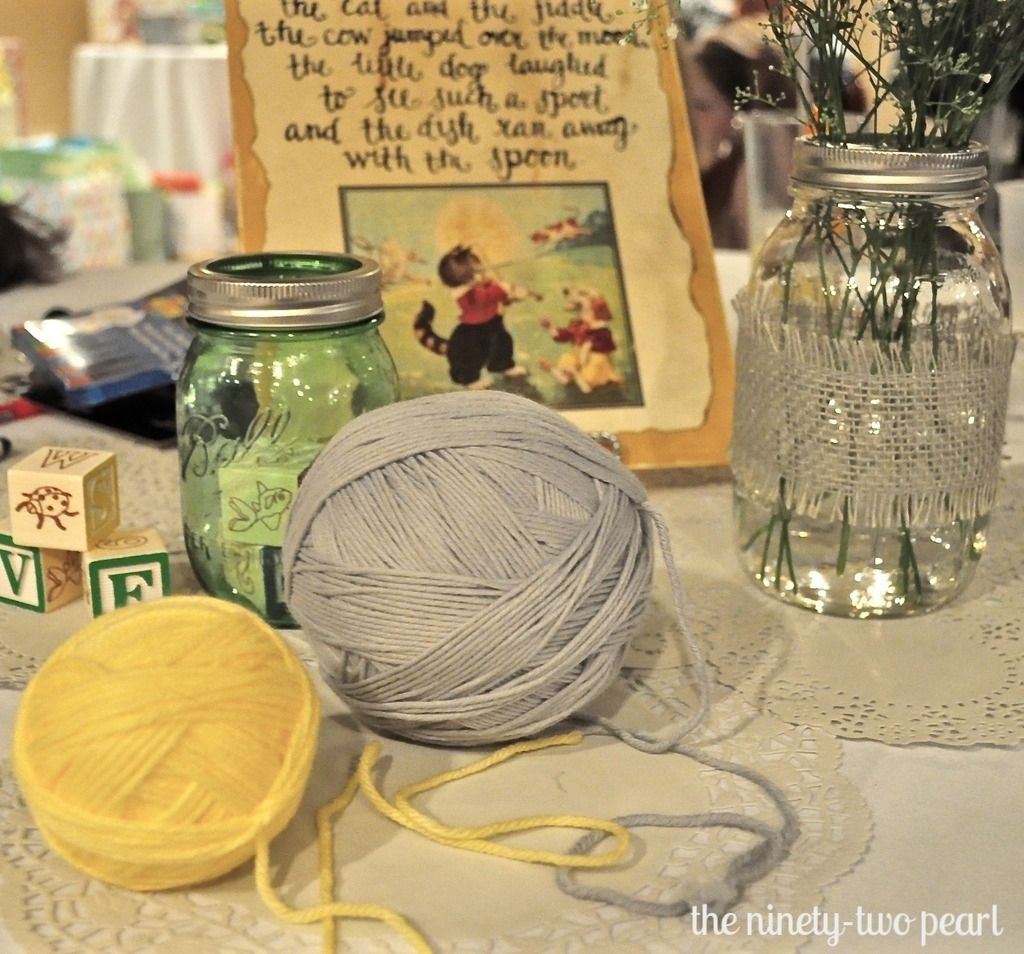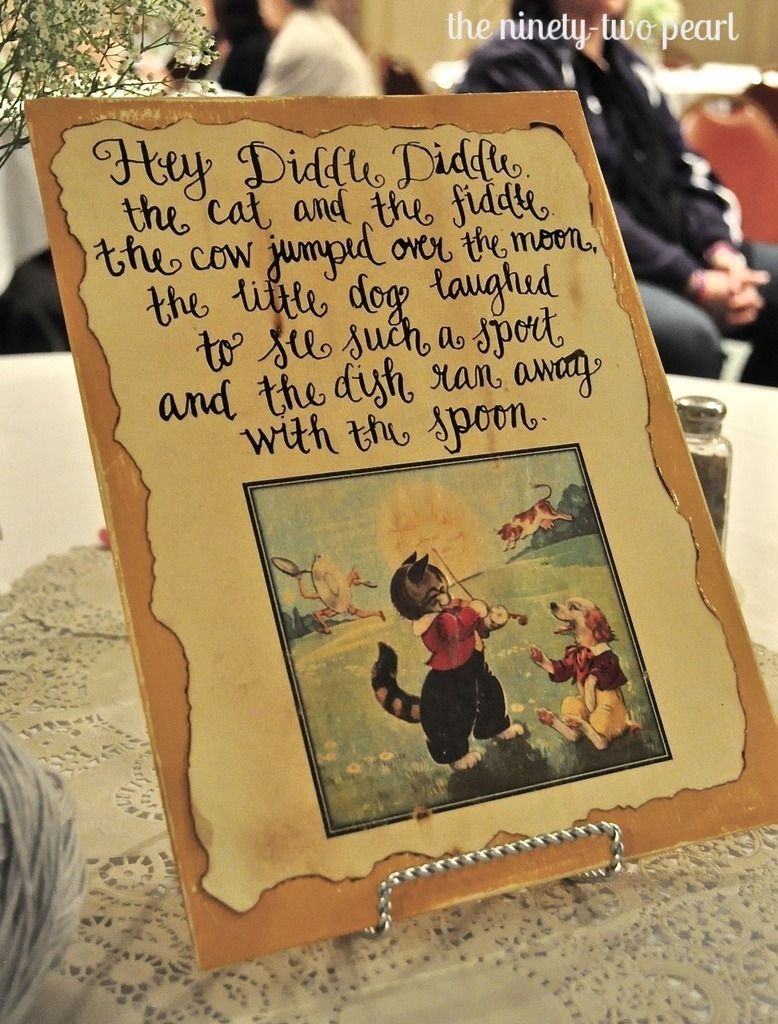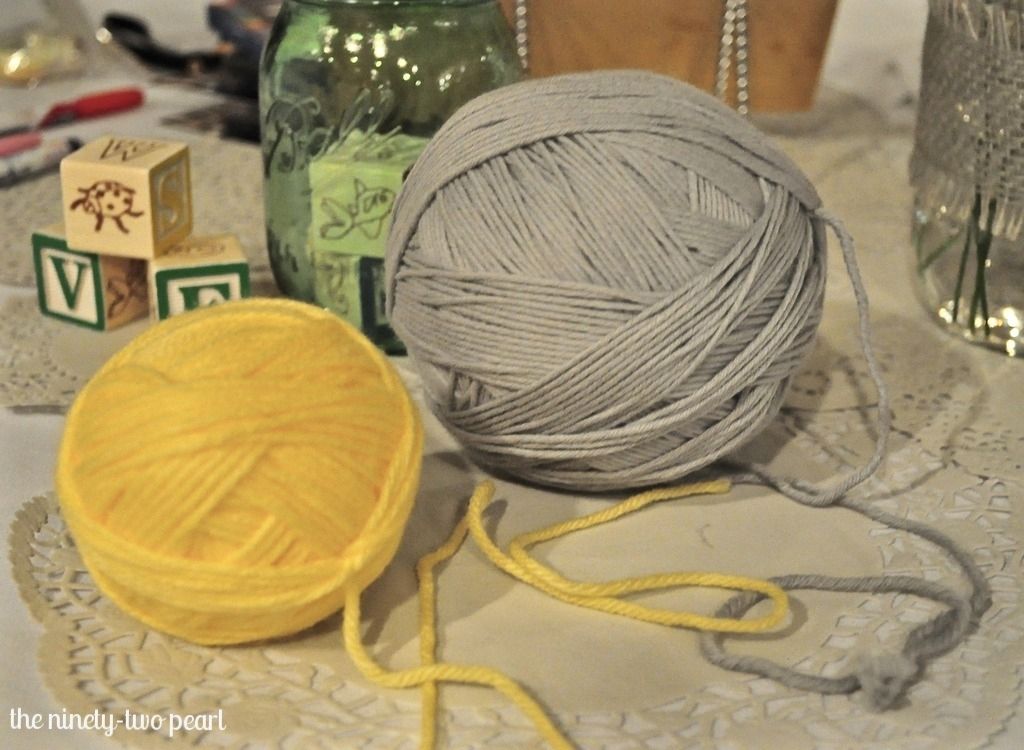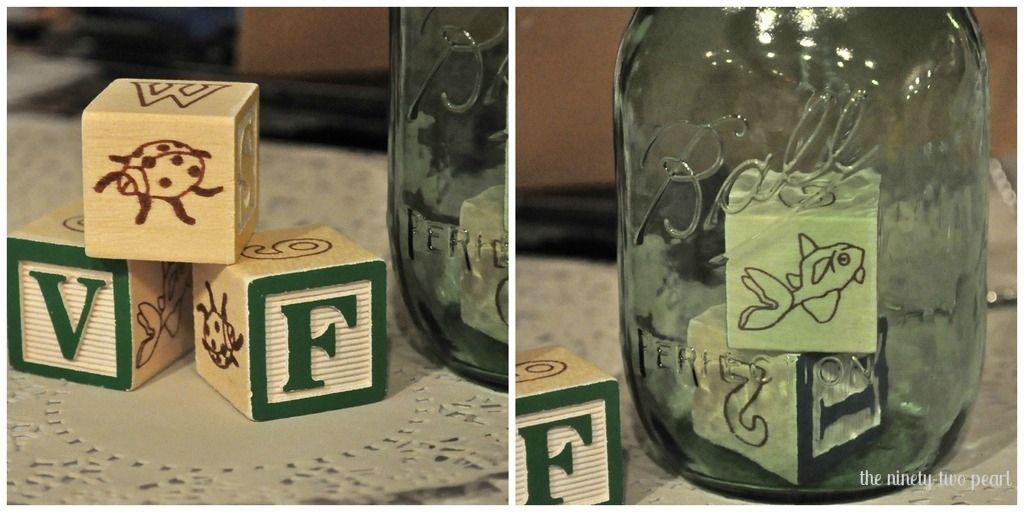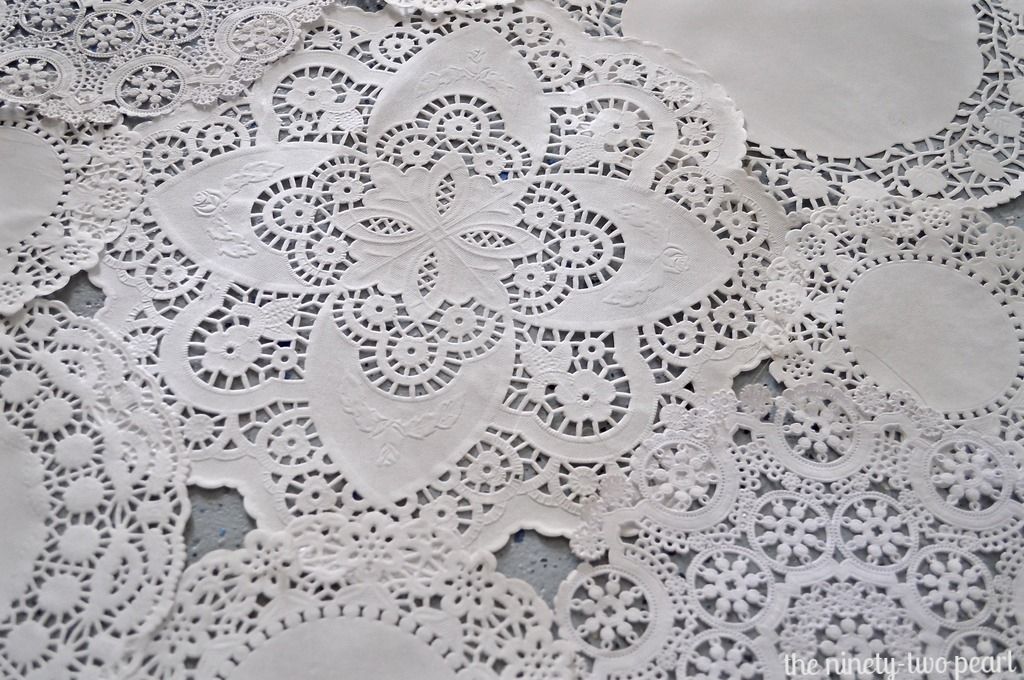 So each centerpiece consisted of a doily underlay that I made by attached different size doilies. I then spray painted all the doilies a grey/beige color so they all were the same and matched everything else. We also had two mason jars, one green smaller one and a larger clear jar. The larger jar held a bunch of baby breath. I attached a grey twine ribbon using some hot glue to the jar so it is easy to peel off so I can reuse them again. The green jar I just filled with some small alphabet block that we late gave to the mom-to-be. The yarn balls I thought would be a cute addition to each table. I used styrofoam balls to lessen how much yarn I would need. I made them in a light yellow, light green and a grey. I thought it was a cute little addition to each centerpiece.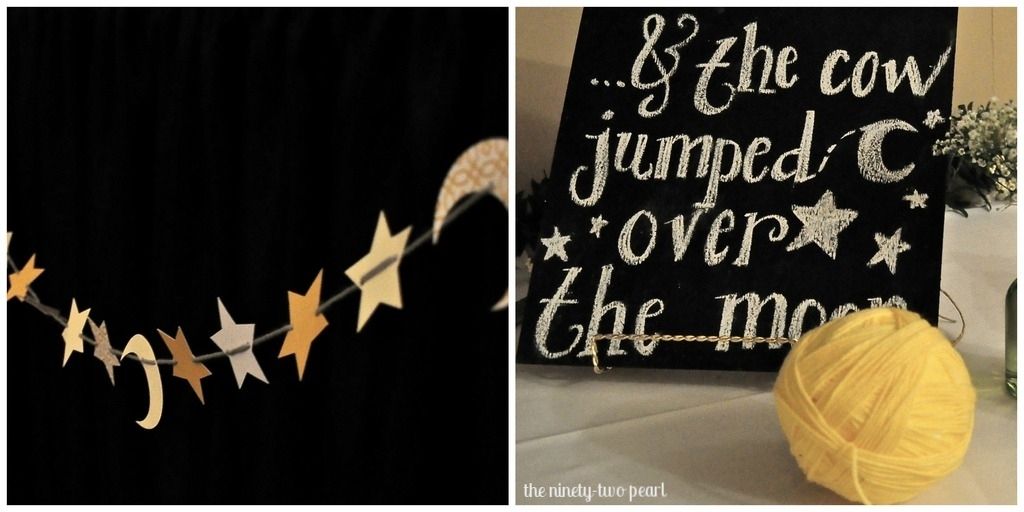 So I don't have a photo of the cake but it was the "cow jumped over the moon theme". I made some moon and star garland for the table and a chalk board sign.
The biggest project I worked on for this baby shower were all the nursery rhyme signs. Each table had there own sign with a different nursery rhyme on it. I used craft plywood (that I cut into custom sizes), chalk paint, and a cream colored card stock. I stained the card stock by placing the paper in coffee grounds and water and rubbing the coffee grounds on the actual paper to give it a more vintage vibe. I painted the boards with chalk paint and then sanded it down. After I had stained the paper, I printed out the photo of the nursery rhyme on the paper. Then I hand wrote each nursery rhyme with my calligraphy pen and ink. The calligraphy classes I took have definitely come in handy!! We burnt the edges so it looked even more distressed and aged. I stuck it on using some Mod Podge.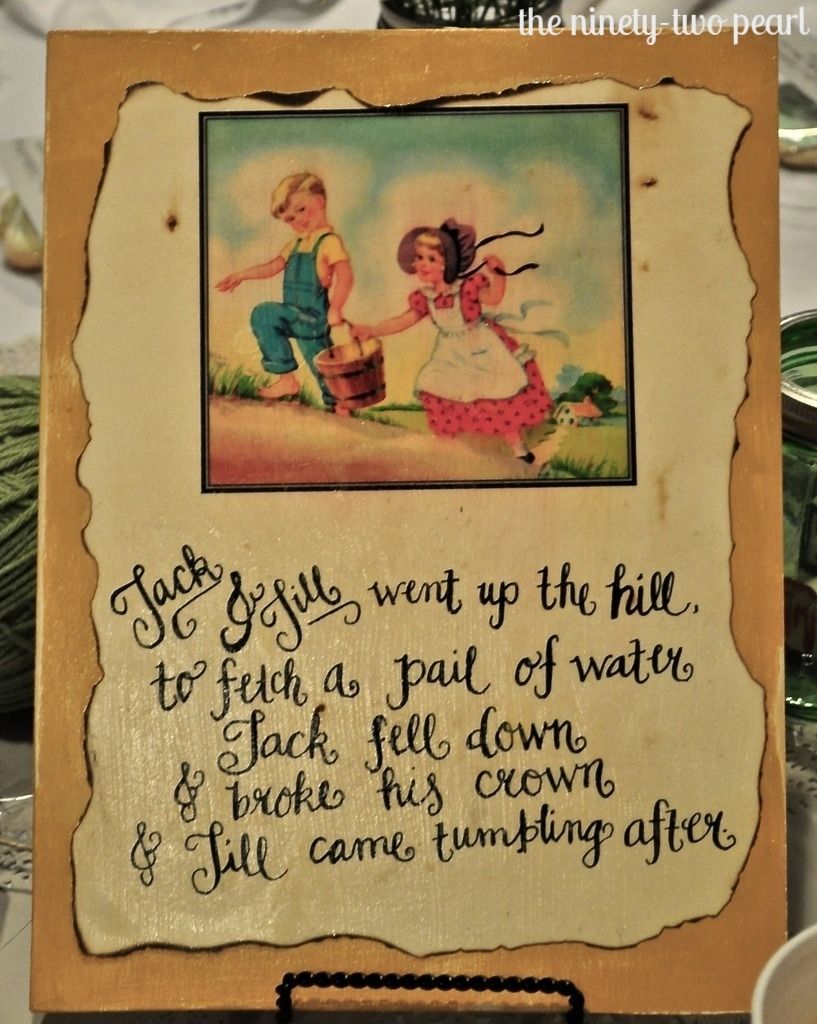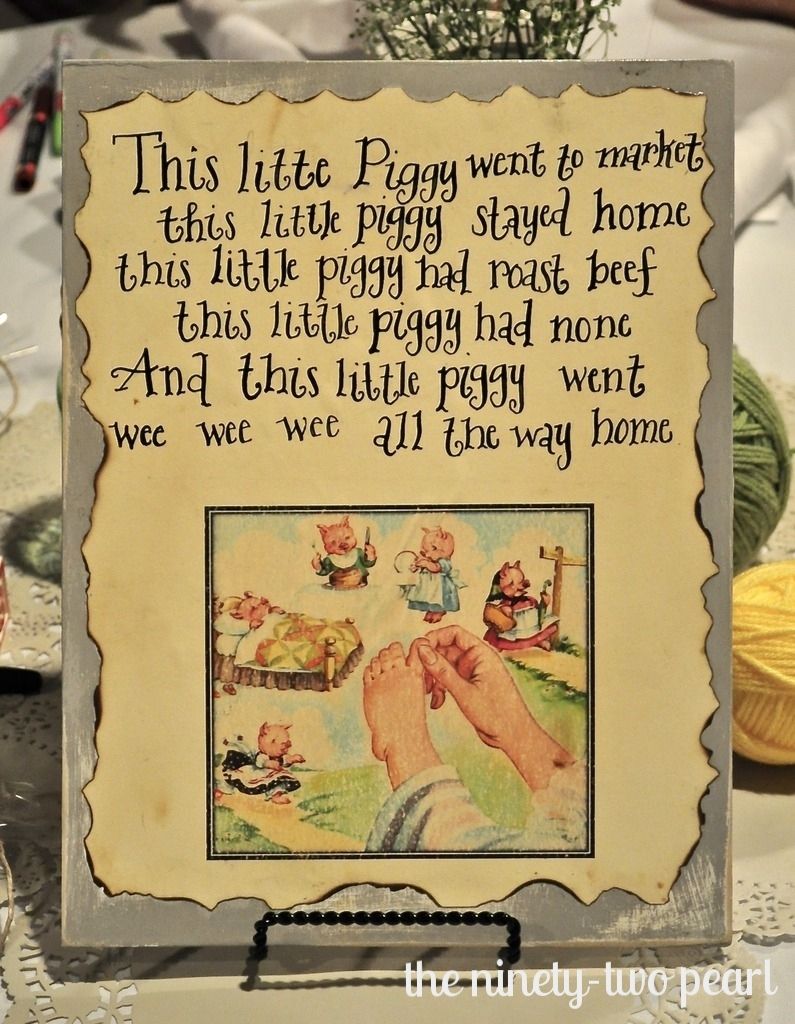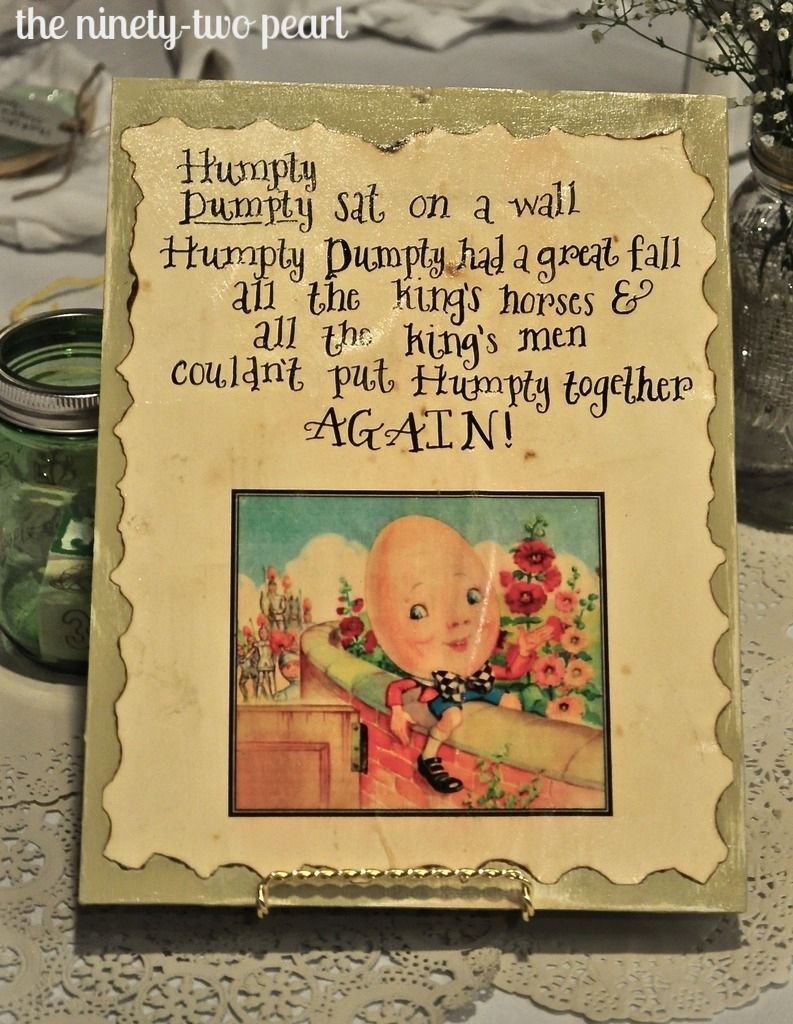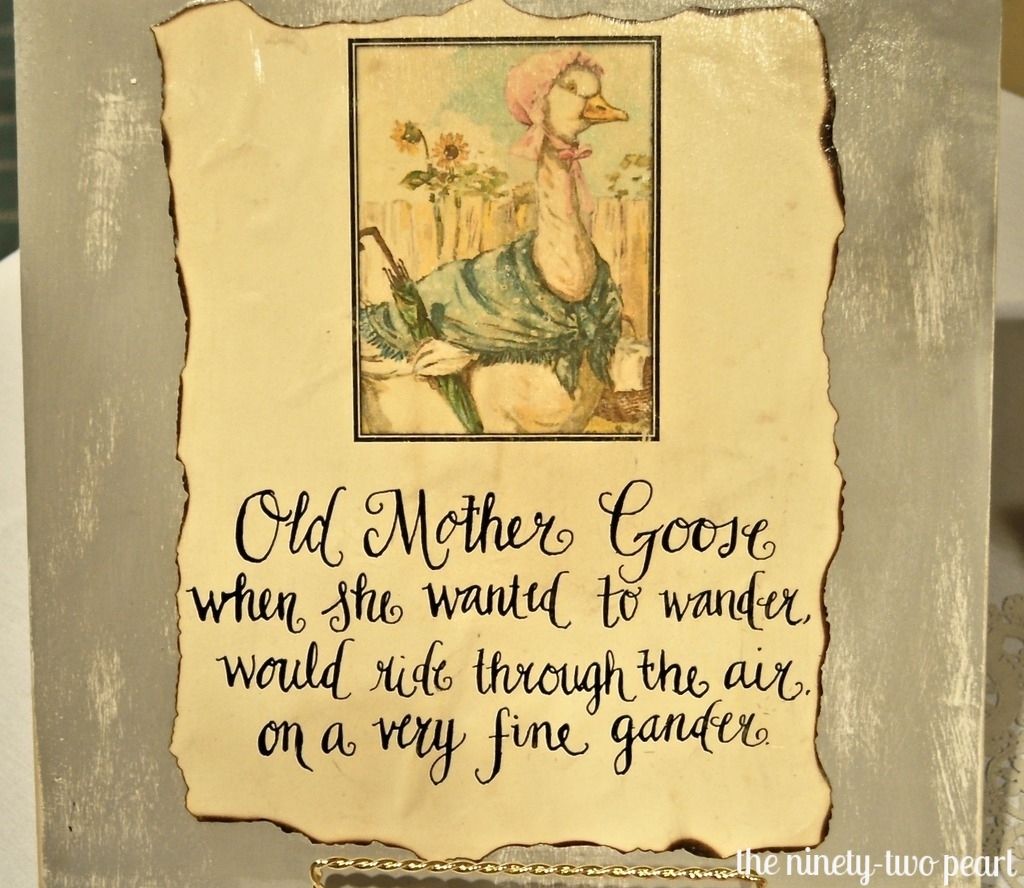 So there we have it folks. Now it is time to continue to learn the ropes of my new camera!!