Initially when I was asked to help out with my best friend's baby shower, I knew exactly what I wanted to do. When I found out it was going to be a Nautical theme I got even more excited! I knew I wanted fresh flowers for the centerpieces, but that didn't quite scream out baby shower to me. I started to look around and thought baby blocks would be so cute and and would look perfect with the flowers. I searched and searched and searched for the exact baby blocks I wanted that had the nautical theme and I couldn't quite find them. So then, I figured might as well make them!
---
BABY WOODEN BLOCKS
Materials:
2×2 or 1.5×1.5 wood board (like this)
Sand paper
Acrylic paint
Paint brushes
Scrapbook paper cut into squares
Elmer's School Glue
Mod Podge
Rubber stamps
Stamp ink
---
I wanted to make these from scratch, so I went to Home Depot to find me some wood! I was shooting for 2×2 blocks and thought I had hit the jackpot when I bought the boards, but when I got home I realized they were 1.5×1.5 so I settled for a smaller size block. I had bought two pieces of wood and had my father chop up the wood for me. It gave me about 38 blocks.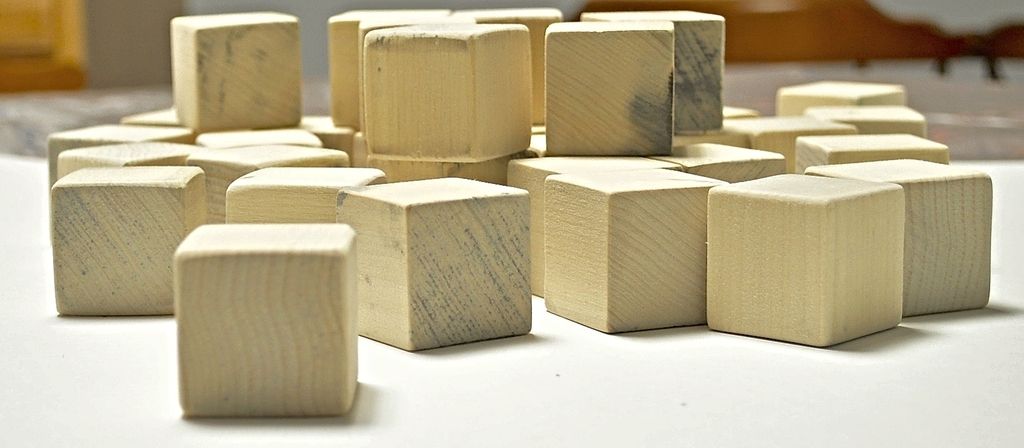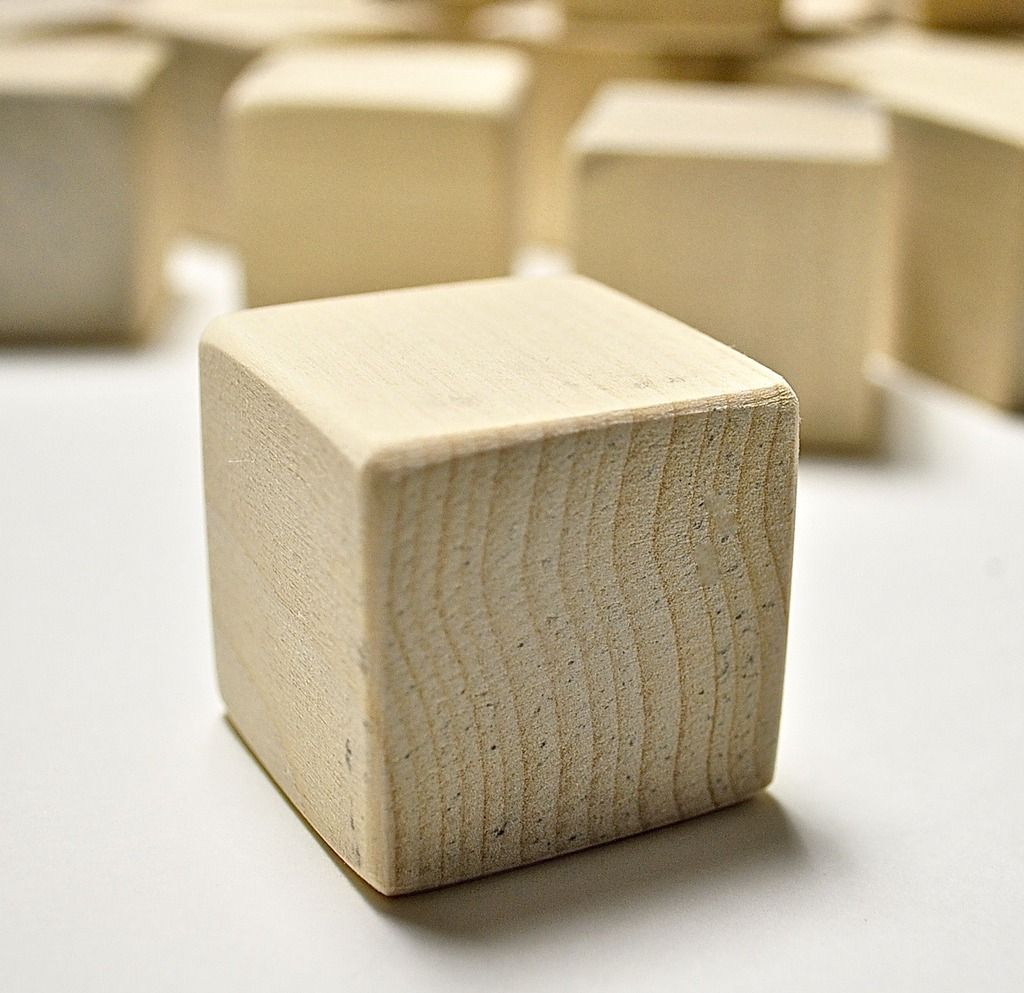 This might be the moment you second guess your decision of making these blocks from scratch. If you are under a time crunch or don't have any patience you might want to already buy some pre-cut / sanded blocks at your local craft store. I started to sand and when I got to about my 12th block I started to think this may have been a crazy idea but the results were so worth it!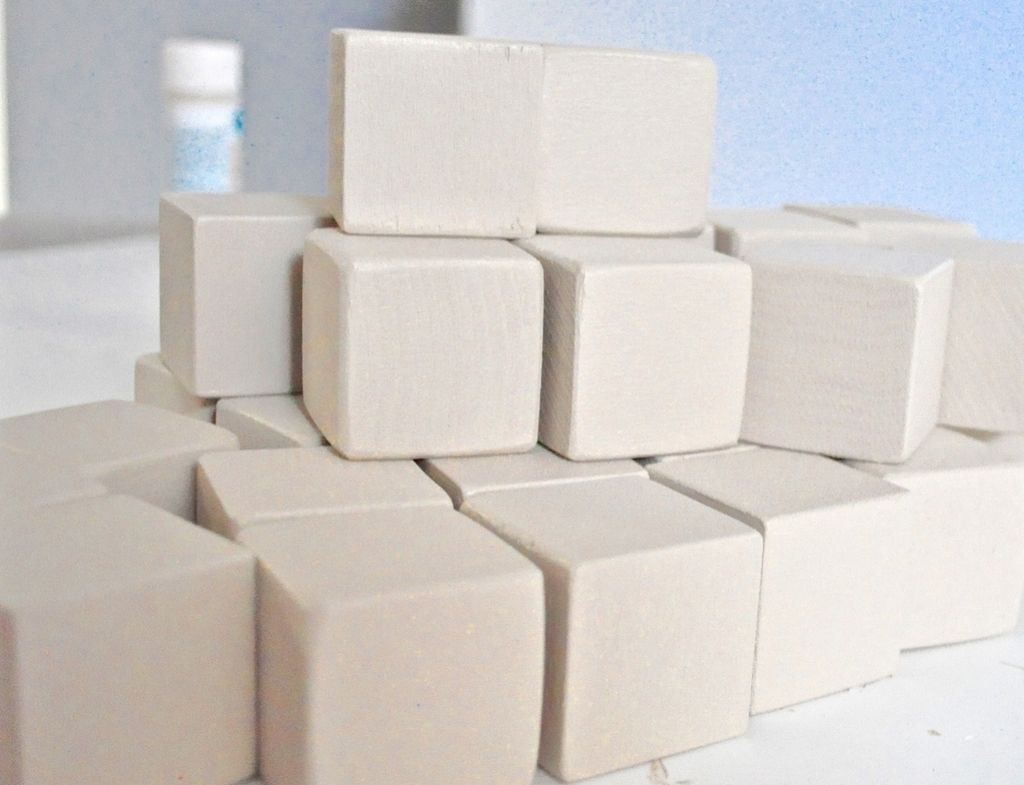 Once all of the 38 blocks are sanded down, it is time to paint. You can paint them any color you want but since the scrapbook paper I chose was bright and busy I figured to keep the paint mellow. I specifically used Martha's Stewart "Putty" color.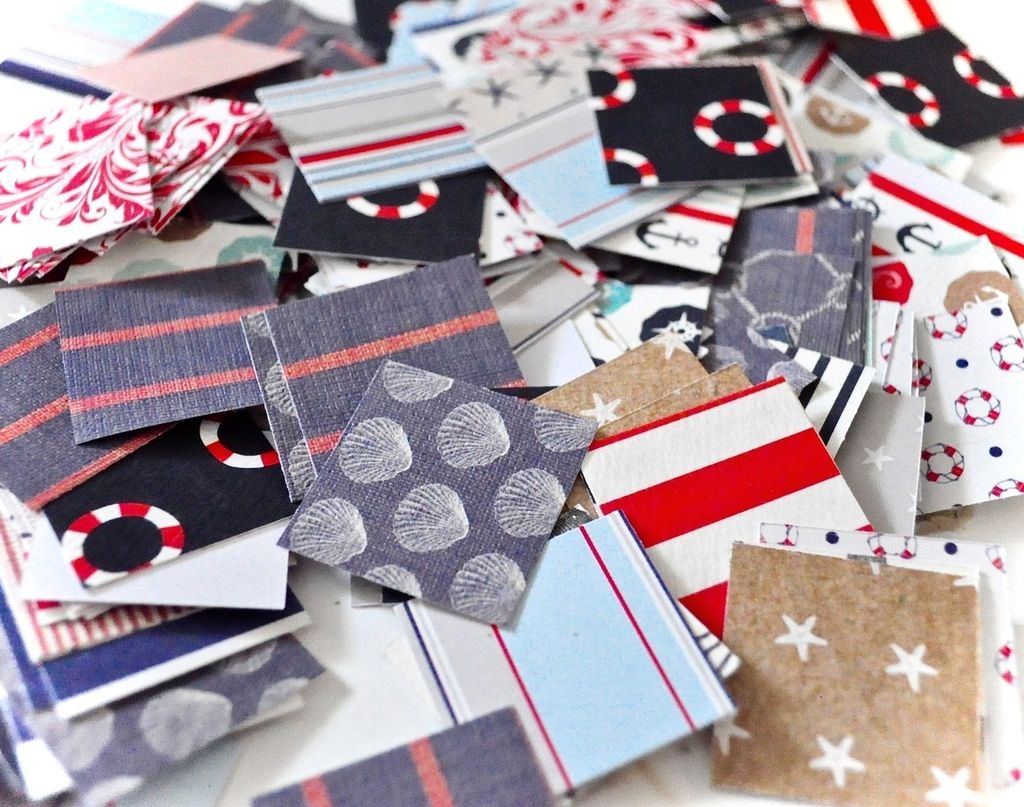 While the paint dries, cut the scrapbook paper into 1.25×1.25 squares. I cut a ridiculous amount of them out, so much so I will definitely have to think of another project! I used nautical scrapbook paper because I plan to use these to decorate the room for the nautical baby shower.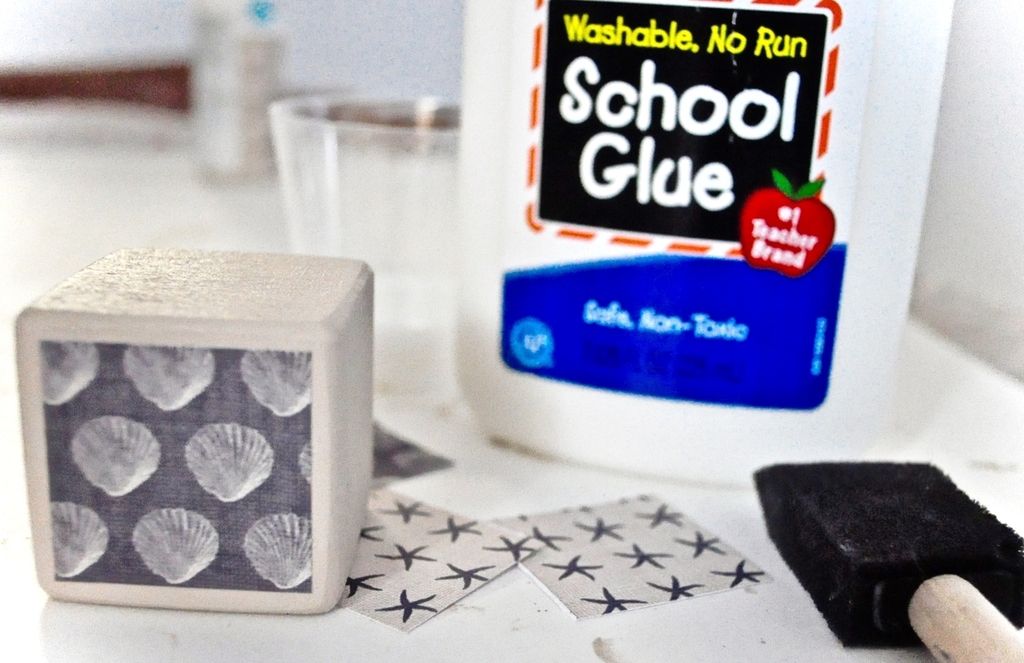 Once the paint is dry it is finally time for the fun part! The gluing part.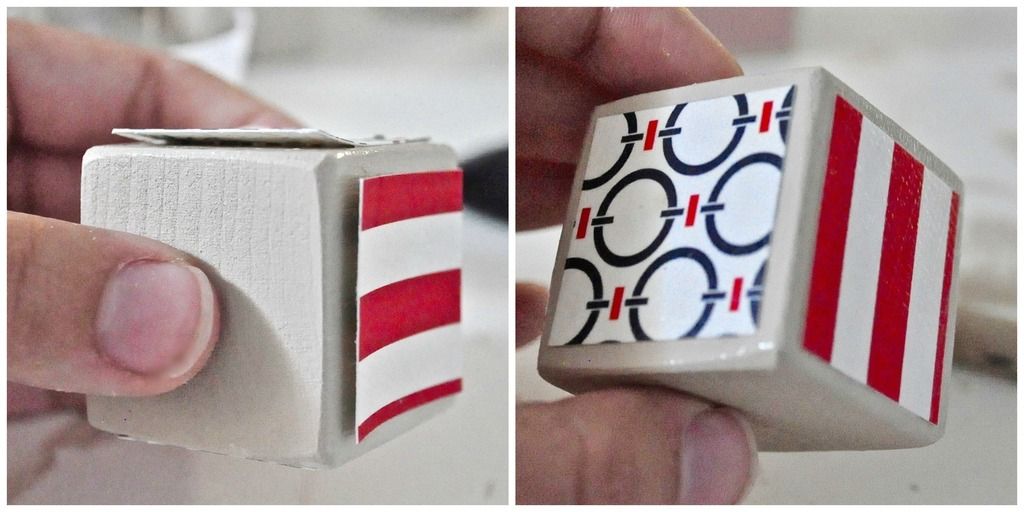 Using a regular paintbrush or a sponge, put some glue on four sides of the block and attach the scrapbook paper. If you don't put enough glue on it the edges of the scrapbook paper, it will start to curl. Put a generous amount of glue on top of the entire side of the scrapbook paper so the entire block is smooth.

Let all the blocks dry, which doesn't take more than about an hour. Next step is stamping. I had bought the stamps from Michael's and they had a bit of a rustic look to them so I was excited to use them. Place the stamps onto an acrylic block.
I used a non-toxic ink that you can find at a local craft store but you could definitely use different types paint or even glue and top it with glitter. Stamp the two sides of the block that are empty.
Note: if you are not using ink, when you press the stamp into the paint/glue make sure you have a very thin coat of the paint/glue. If you have too much paint/glue on the stamp it will smear and slip really easily get a bit messy.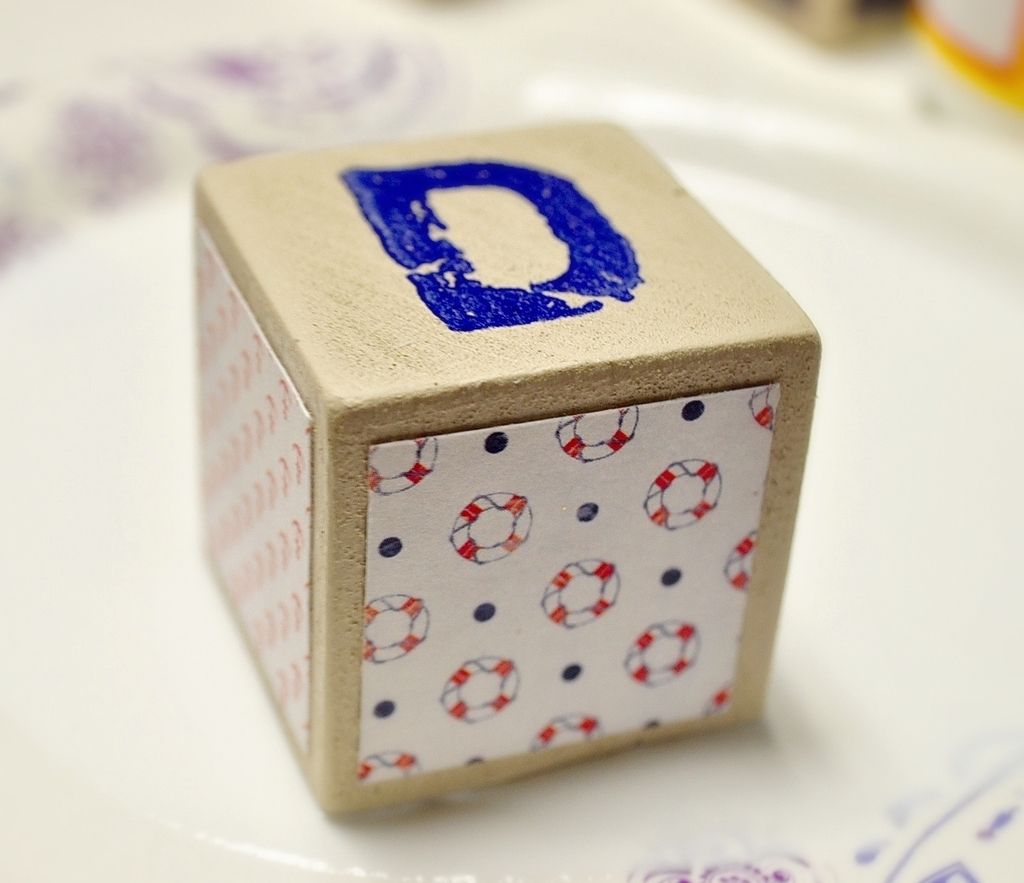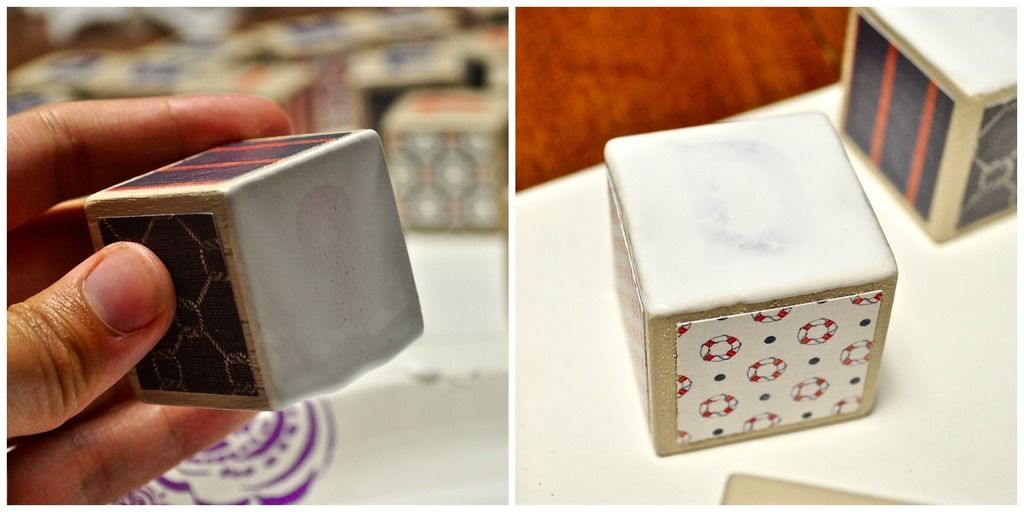 My life revolves around Mod Podge sometimes…actually all the time. I think it might be the center of my craft world really. I was looking forward to this step because it was the LAST step and I thought it was going to be pretty quick. I was definitely in for a surprise. Let me just tell you, if you use ink you can not use a paint brush or a sponge for the Mod Podge because it will smear EVERYWHERE.
In order to avoid the smearing, dip the lettered sides into the Mod Podge all at once, tap excess away and let it dry. Repeat this step for the other side.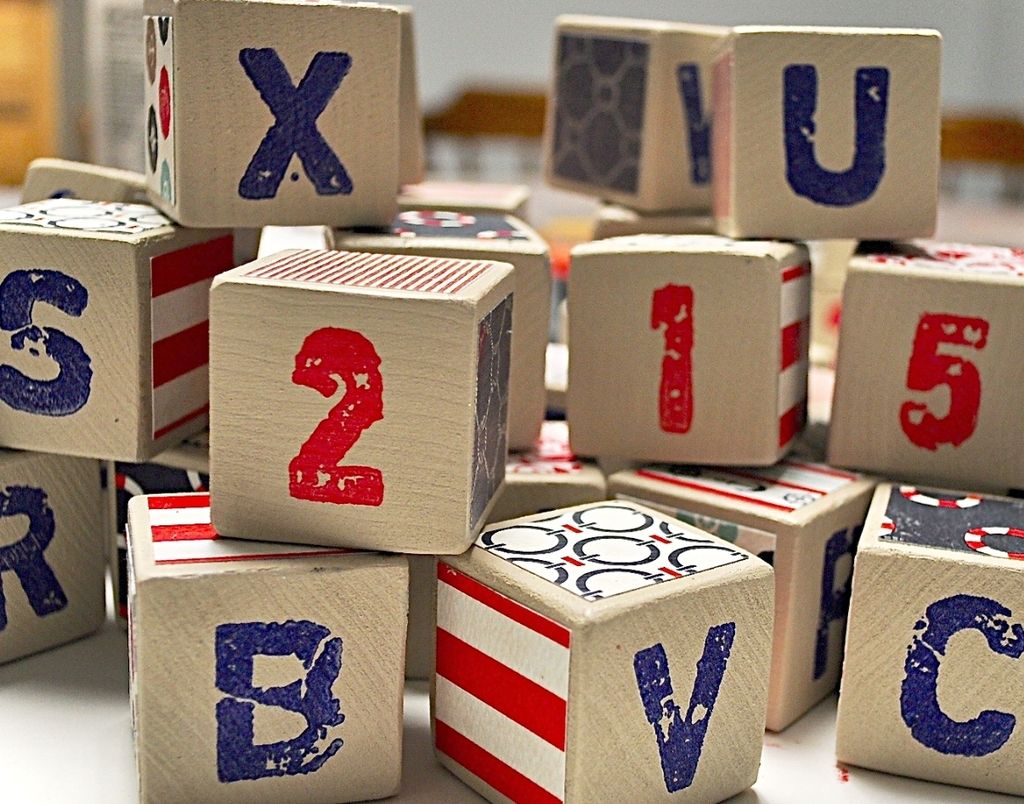 Use a sponge or paintbrush to cover the scrapbook sides with Mod Podge. Let those dry over night and then you are done! I was really content with the results of the Mod Podge. (I used these blocks for decor and I also made sure that all the materials I used were as safe and non-toxic as possible. I gave the blocks to the Mama-to-be and I believe she was pretty excited about it!)