A few weeks ago my boyfriend and I went up to Boston to go to the big St. Anthony's feast in the North End. I am 100% Portuguese but that will never stop me from pretending to be Italian for a day! We had one thing on our mind…EAT. We literally stuffed our faces with a disgusting amount of Italian food. Arancini, sausage, caprese salads, calamari (in an Italian accent) and everything else you could hope and dream for at an Italian feast. When we left, we sat at a park to regroup (and to allow the food coma to pass).  We were trying to figure out what we should do next in the city and then I remembered about the Boston Public Market.
The Boston Public Market is AWESOME. I can't rave enough about it really. There are dozens of locally grown foods and vendors selling their fresh items all under one roof. From fresh poultry to fresh honey, you really cannot go wrong. It can definitely get pricey but for the quality I think it is completely worth it. Anyways, I am not sure what exactly possessed us to go to look at MORE food after eating my body weight in arancini but what the heck! Why not?! While we were walking through, I found exactly what I was going to make for dinner on Sunday. PASTA (Because I didn't have enough already…right?)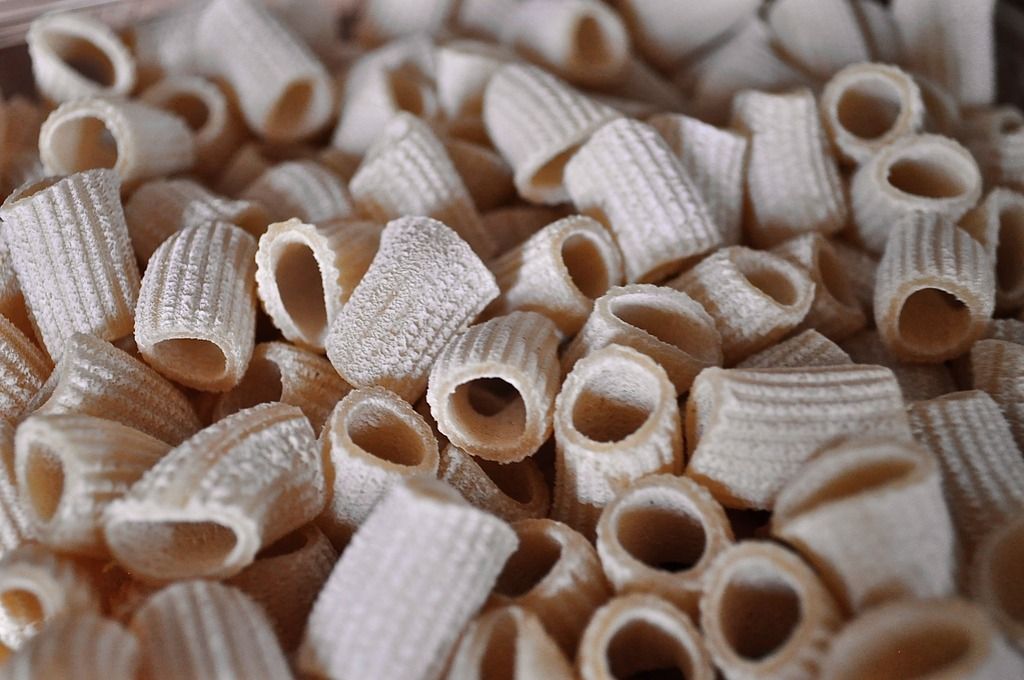 I learned after cooking Nella Pasta that it is AMAZING. I purchased the original semolina but they had different types and flavors such as lemon and pepper linguini and all different types of raviolis. So now for the hard part, what can I make with the pasta.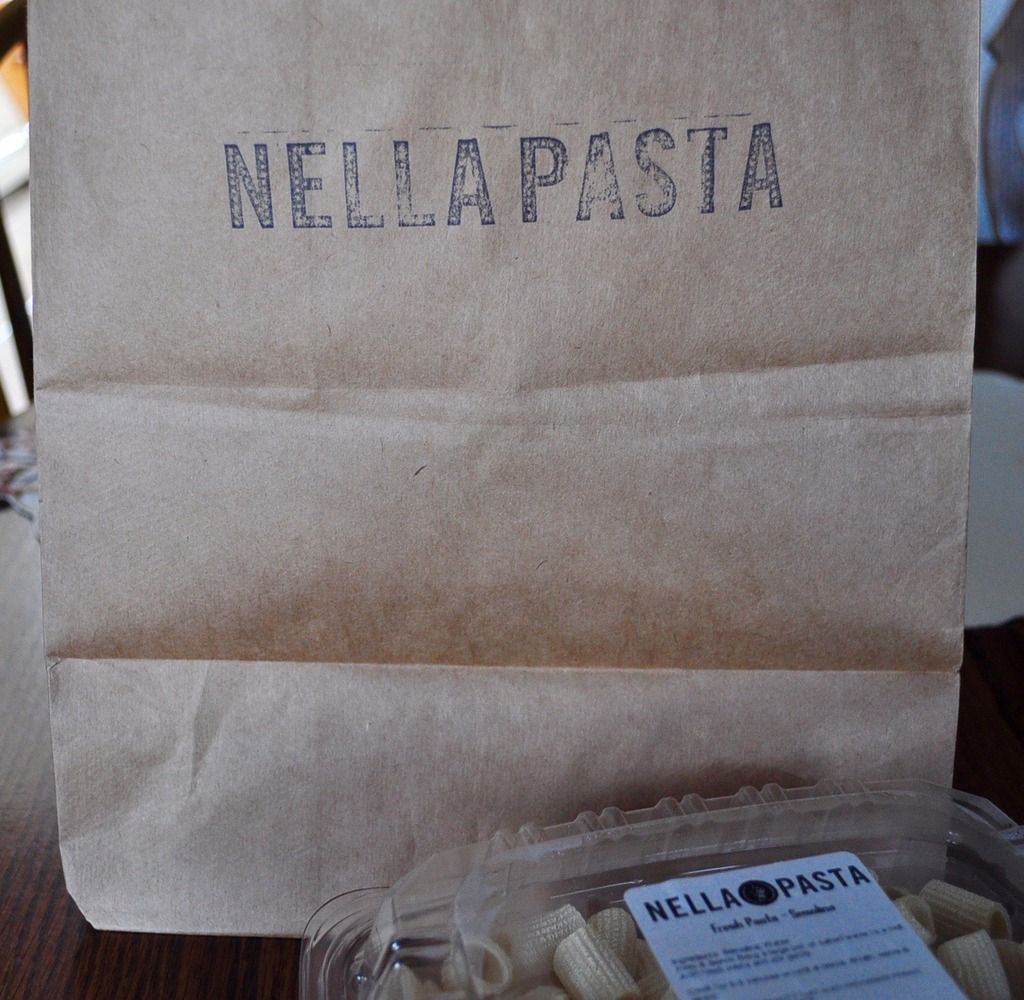 When I was still in college I would  visit my boyfriend on campus about once a month. Every weekend I was there I would ask my boyfriend, "What do you want me to make for dinner?!" and he replied every time with, "lemon chicken or chicken piccata!" This went on for years and it continues to go on. It is all he wants, all the time. So I figured it would be the perfect companion with this pasta!
The holy mecca of chicken piccata, at least to me…garlic, parsley, lemons, capers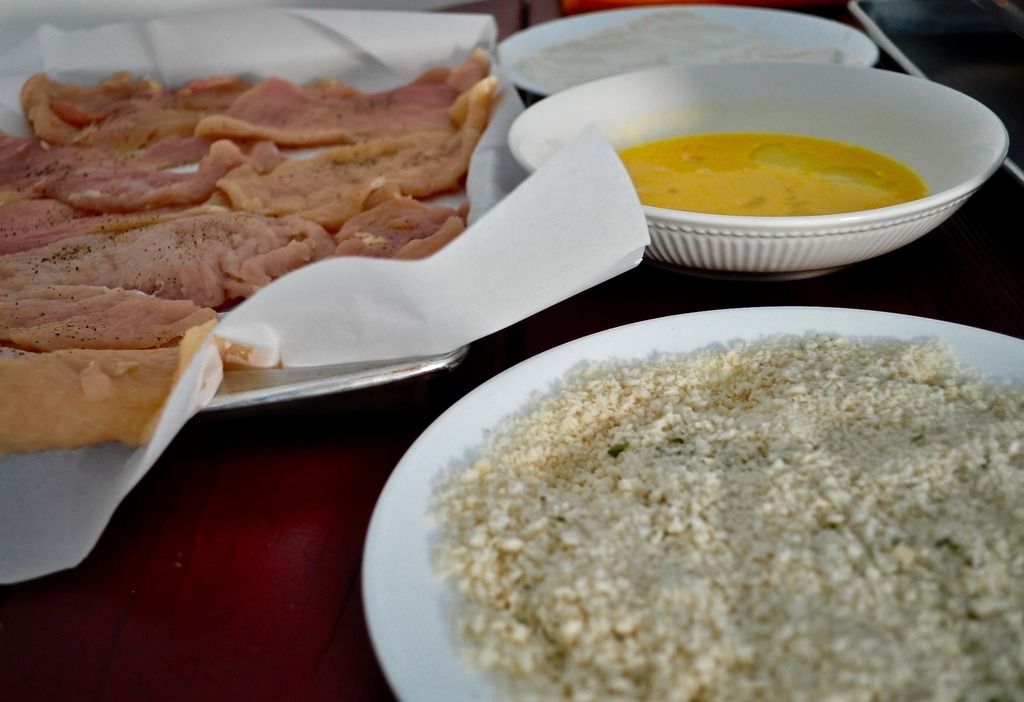 We aren't huge fans of frying, especially in the house (blame my Portuguese parents).. so my dredging and frying station was set in the garage. Very adventurous, I know.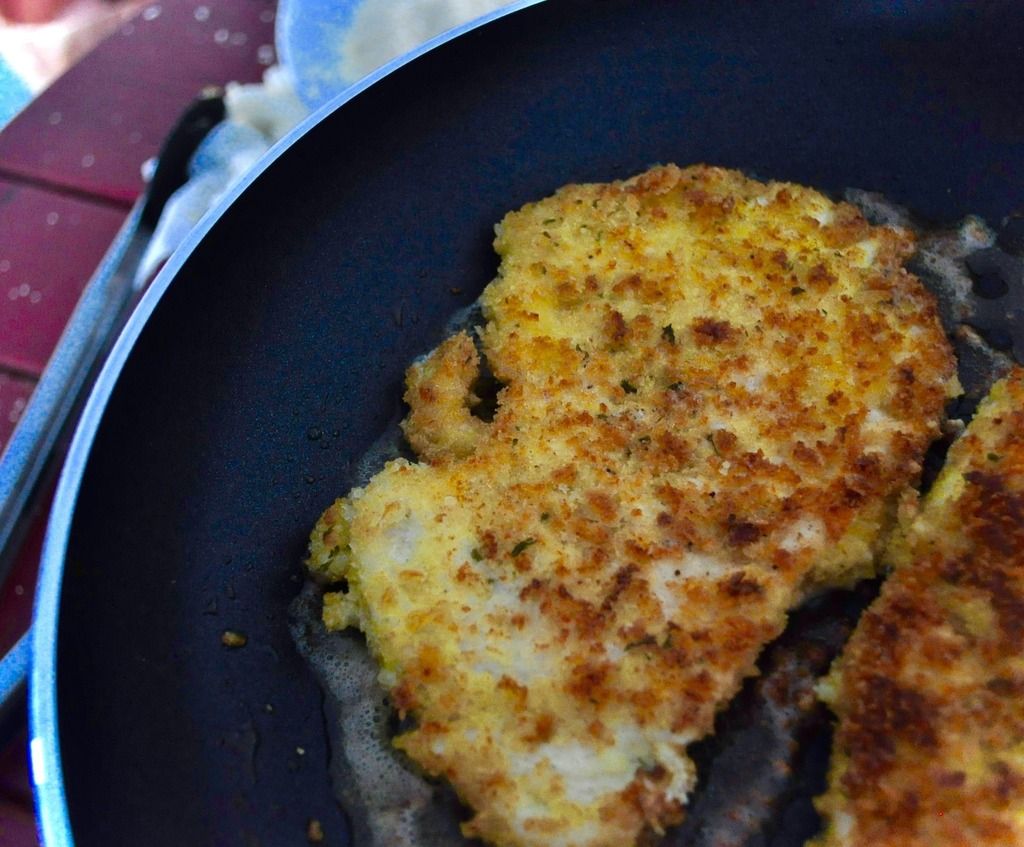 Fry those cutlets! Fry those cutlets! The color is great on these..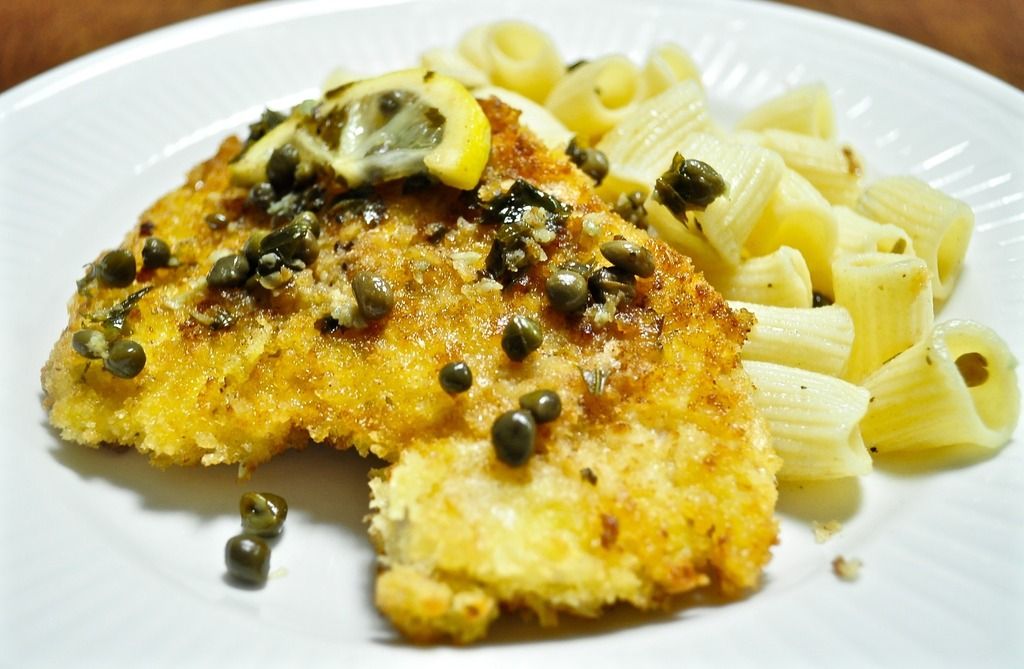 ---
Ingredients
3 large chicken breasts or about 6 chicken cutlets
flour for dredging
2 eggs, beaten
2 cups of panko bread crumbs
2 tbsp of dried parsley
6 tbsp butter
5 tbsp of olive oil
3 lemons (2 1/2 juiced, 1/2 sliced) or about 1/2 cup of lemon juice
1 cup of chicken broth
3/4 cup of white wine
1/3 cup of capers, drained
1/4 cup of fresh parsley, chopped
2 cloves of garlic, minced
12 oz of pasta
salt and pepper
Instructions
Preheat the oven to 350°F.
Bring a pot of water to a boil. Cook pasta according to the packaging.
Cut each chicken breast into 2-3 thinner slices. Pound the chicken thinner, about 1/4" thin. Season with salt and pepper.
Combine the dried parsley with the panko bread crumbs. Set up your dredging stations. One plate with flour, one bowl/plate with egg, and the last with the panko parsley mixture.
Over medium heat, melt 2 tbsp of butter with 2 tbsp of olive oil.
Begin to dredge the chicken, first the flour, then egg mixture, and then panko crumbs. Place the chicken in the hot oil/butter and cook for about 2 minutes on each side or until a coating becomes golden brown on each side.
Place the chicken on cookie sheet covered with parchment paper. Repeat this for about half of the chicken.
Clean the pan if bits of breadcrumbs begin to burn and repeat this step from the panko (bring 2 tbsp butter and olive oil to the pan) with the remaining chicken. When all the chicken is on the cookie sheet, place the chicken in the oven for about 7 minutes or until chicken is cooked through.
Clean the frying pan of any burnt bits left behind from the chicken. In medium heat, heat olive oil.
Saute garlic for about 2 to 3 minutes or until the garlic becomes fragrant.
Pour the white wine, chicken broth and lemon into the pan. Bring to a boil, allow the sauce to boil for about 2 minutes before reducing it to low.
Allow it to simmer, add the butter, lemon slices, parsley and capers.
Continue to heat until butter is melted, about 2-3 minutes. Remove from heat and season with salt and pepper. Pour the sauce over chicken and pasta
http://theninetytwopearl.com/chicken-piccata/
---