WARNING: You will want to make this lobster recipe everyday – this is a warning it may put a damper on your wallet but I promise it will be worth EVERY penny.
Oh Labor Day weekend. It is so very sad to see the warm weather go but it is even sadder to see the fresh New England seafood season slowly come to an end. This year I decided to end the summer with a bang! I used to hate lobster (I know what you are thinking, I'm ashamed of myself too). One New Year's Eve when I was way younger, the family had boiled lobsters and I remember feeling so sick the day after. I thought it was the lobster and I was probably going to die so I made a promise to never eat lobster again. So I wasted at least 12 years of my life hating the most delicious crustacean on this planet.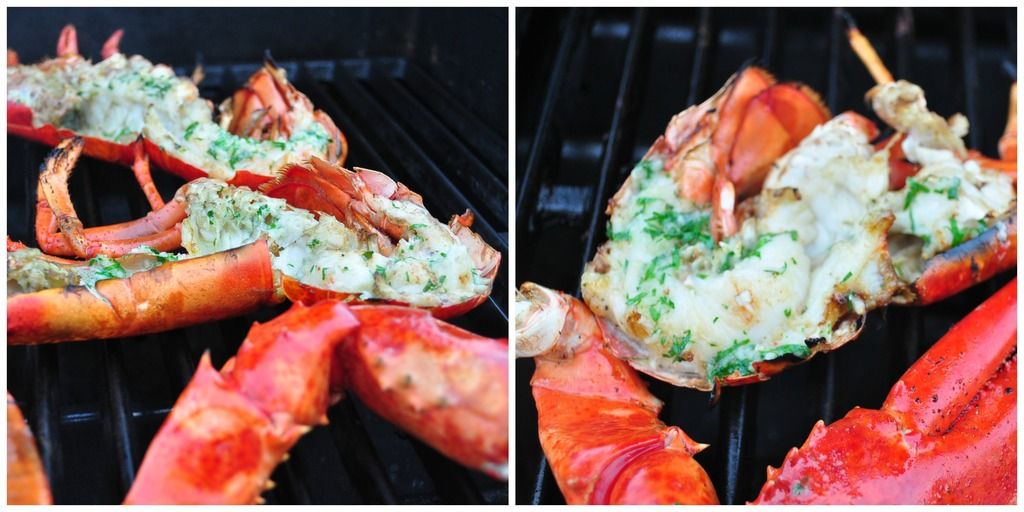 This past summer I made up for lost time and ate so much lobster, I couldn't stop. After eating it boiled, stuffed in rolls and ravioli, I knew  I needed to try something different. I had stumbled upon a pin from Pinterest in the beginning of the summer for Grilled Lobster. I thought I had hit the jackpot, it looked AMAZING. Saveur had a great recipe for grilling lobster with a garlic parsley butter. I definitely tweaked quite a bit and it still came out AWESOME.  This recipe brings together the best of both worlds, lobster and garlic butter.
I made extra garlic butter because I know I could use the extra on garlic bread or steaks so I figured the more the merrier.
---
Grilled Garlic Butter Lobster
Ingredients
Garlic Parsley Compound Butter

16 tbsp of unsalted butter, softened
4 cloves of garlic minced
3/4 tsp of garlic salt
1/4 tsp salt
2 tbsp of parsley, finely chopped
Grilled Lobsters

2 - 1 1/2 pound fresh lobsters
Salt & pepper
Lemon
Instructions
Bring a large pot of water to a boil.
As the water is warming to a boil, place the butter, garlic, garlic salt, salt and parsley into a mixing bowl.
Mix all the ingredients until everything is well combined with a rubber spatula.
Place the butter mixture on a large piece of plastic wrap. Wrap the butter into a log, twisting off the ends. Wrap the log of butter with aluminum foil and refrigerate.
Drop the lobster into the boiling water. Leave them in just until they turn bright red, 1-2 min.
Remove them from the water and let them cool until there are able to be handled.
First remove the claws from the lobsters. Poke some holes into the claws large enough to insert some butter.
Cut the lobster in half by placing the lobster on their back and cutting between the legs. I find this the softest place to cut. Remove the tomalley from the belly.
Turn the grill on to a medium/high heat.
When the butter has hardened, start stuffing the claw with butter, as much as you can fit in or personal preference. Spread the butter on the open side of the tail and belly. Place your lobster on a cookie sheet and season your lobster with salt and pepper.
When the grill is hot, place the lobster open side down on the grill. Grill for about 2 minutes.
Flip the lobster belly side up and spread some more butter on the open side of the lobster. Try to stuff more butter in the holes in the lobster claws. Grill for another 2 minutes and remove from the grill.
Place the lobster on a platter, squeeze some lemon and serve! 🙂
http://theninetytwopearl.com/grilled-garlic-butter-lobster/
---