I haven't posted a new party in sometime now. I started to write this post back in September but then I slowly started converting any wedding and events that I participate in,  into my new site, 92 Events and Floral Design. Anyways, my goddaughter and neice Olivia turned 1 just about a year ago. My sister decided it would be best to celebrate in the summer in order to be able to have an outdoor party and accommodate everybody she wanted to invite. With that being said, we celebrated this past August with close friends and family. It was hard work to get everything together but with the amazing help of family it all came out perfectly.
When picking a theme, I was convinced I wanted us to do a pastel inspired party. I was obsessed with the hot air balloon theme. My sister wasn't sold. I am actually pretty happy she pushed me against what I am used to. She was not going to settle for anything other than a bright and colorful birthday party. We went with a flamingo and pineapple theme. Since I have been trying to focus a lot of my free time on floral design, I figured this would be the perfect opportunity to practice some of my designs.
---
THE INVITATION
The invitation came out super cute! We used this monogram on a few other things in the birthday party. You can find the invitation on Etsy, the shop name is Birdie Says Caw Caw. You can check it out here!
---
CRICUT CRAFTS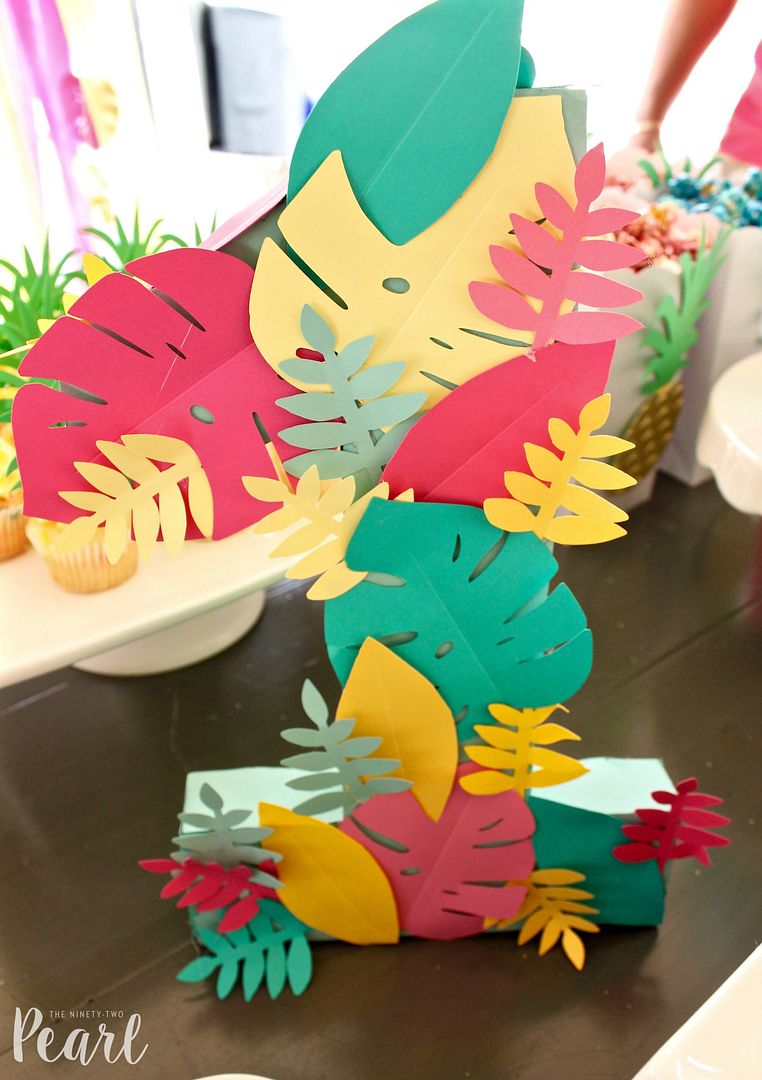 Thank goodness for my Cricut! I am telling you guys, the Cricut is pretty close to the best invention since post-it notes. I made this cute number "1" using foam, card stock and the Cricut machine. I used some hot glue to stick it all together and there it is, pretty simple and looked perfect with our theme.
---
FLORAL ARRANGEMENTS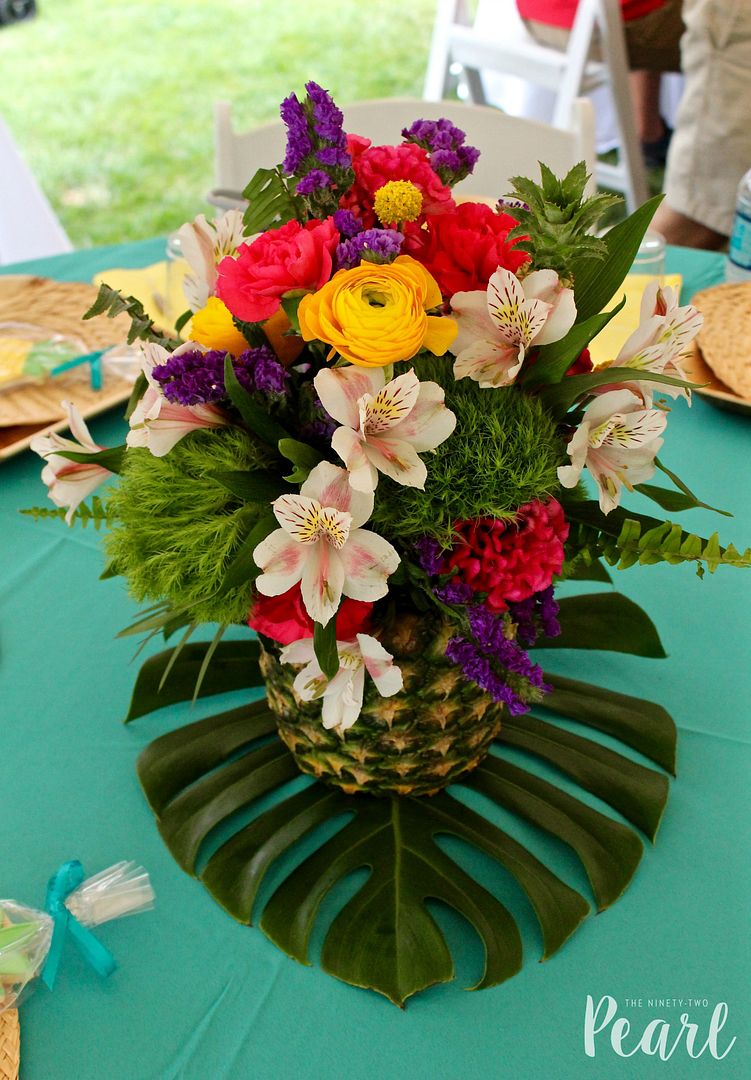 We decided to use round and rectangular tables so I was able to change up the centerpieces. For the round tables, we made a floral centerpieces held in pineapples. We hallowed out the pineapples and placed a glass mason jar in it. We then filled and attached floral foam into the pineapple/mason jar and started to design. Some of the flowers pictured above were green ball dianthus, alstroemeria, carnation, statice, cockscomb, craspedia and MINI PINEAPPLES!!!! I almost forgot how much I was obsessed with these mini pineapples. I could not thank Fall River Florist Supply for literally going to the end of the world to find these pineapples. I was desperate, I started asking coworkers who I knew had family in Costa Rica and the surrounding areas if there was anyway they could get there family to ship up mini pineapples to me. Luckily, my wholesaler found them and they were AWESOME.
---
TABLE RUNNER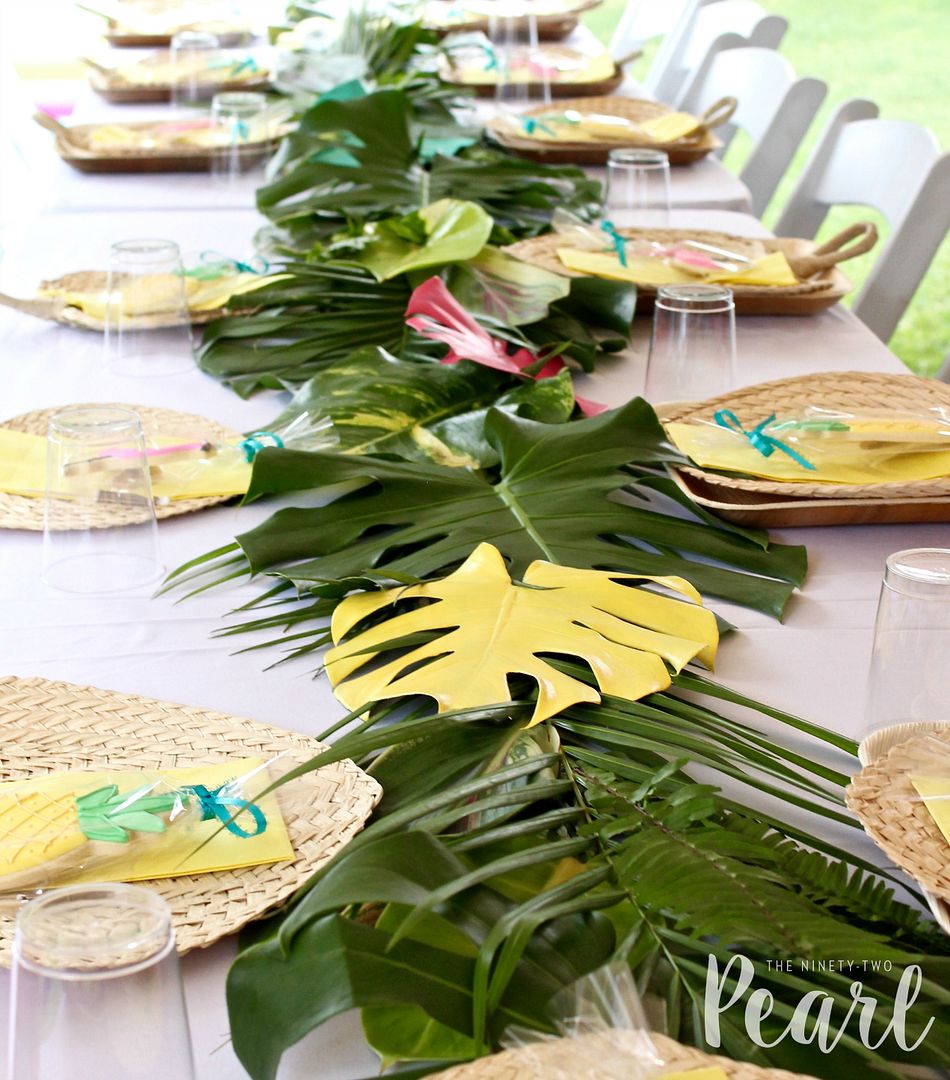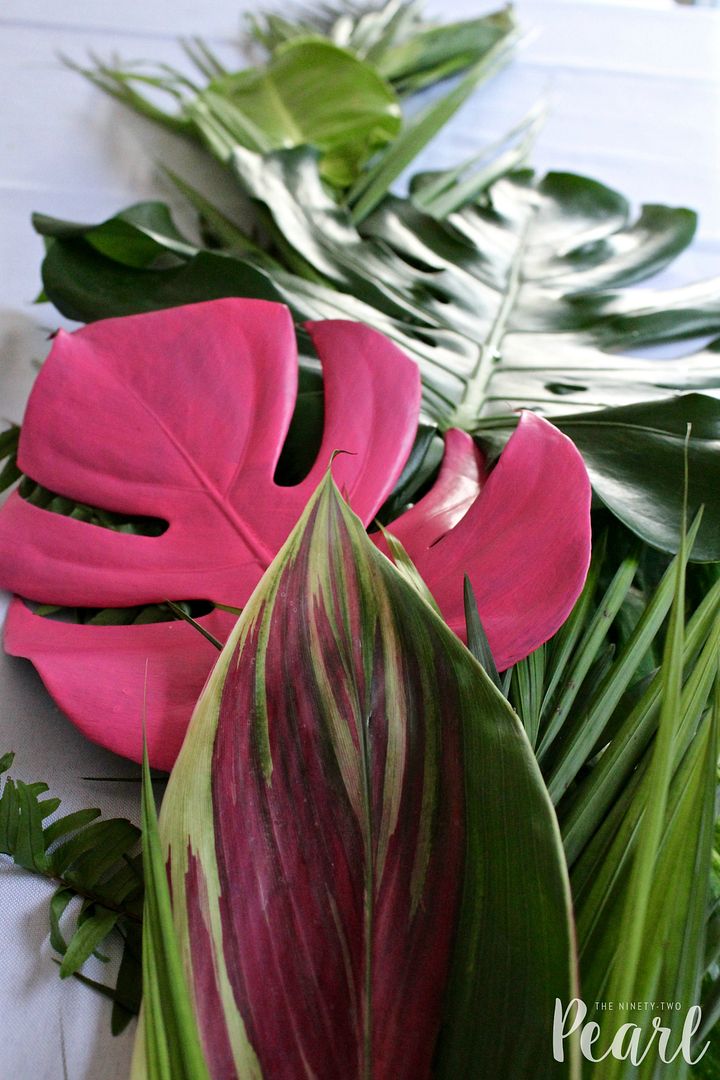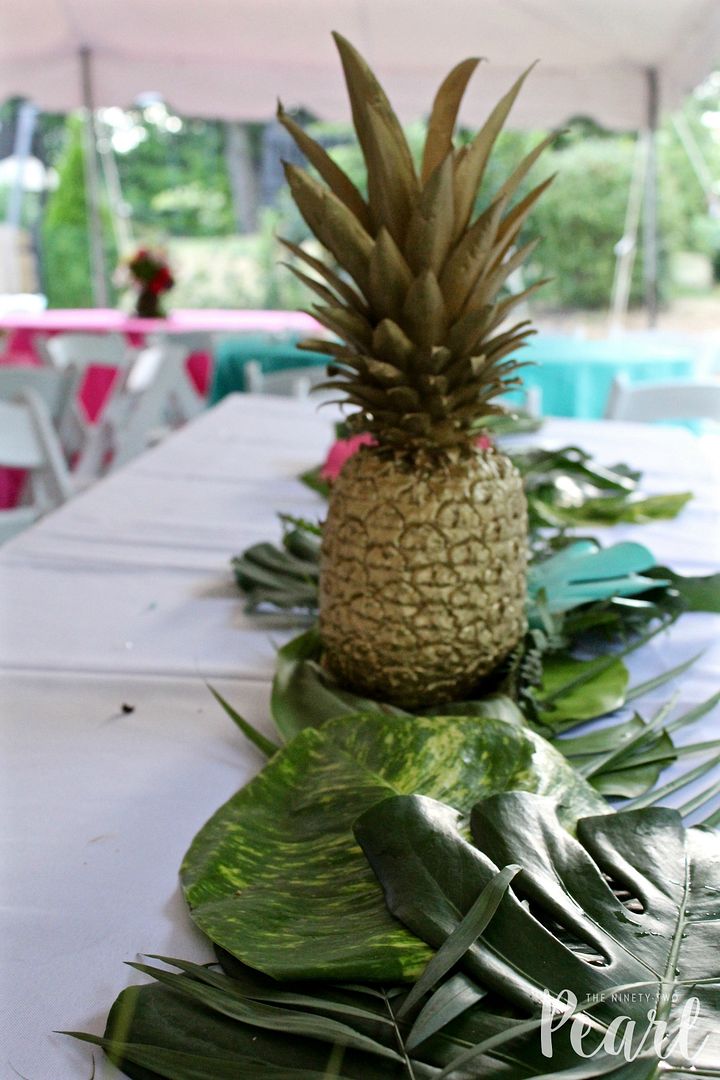 Above was my absolute favorite thing I was able to work on. It definitely took the longest, but it was the coolest, at least in my opinion. I made 16 foot table runners using tropical leaves imported from Costa Rica and the Caribbean. In order to incorporate the colors I painted some of the mini philodendron leaves and put them into in the table runner. Thank you Martha Stewart for the perfect color match! I also painted some pineapples in the same colors as the philodendron leaves. It was the perfect accent on the tables.
---
FAVORS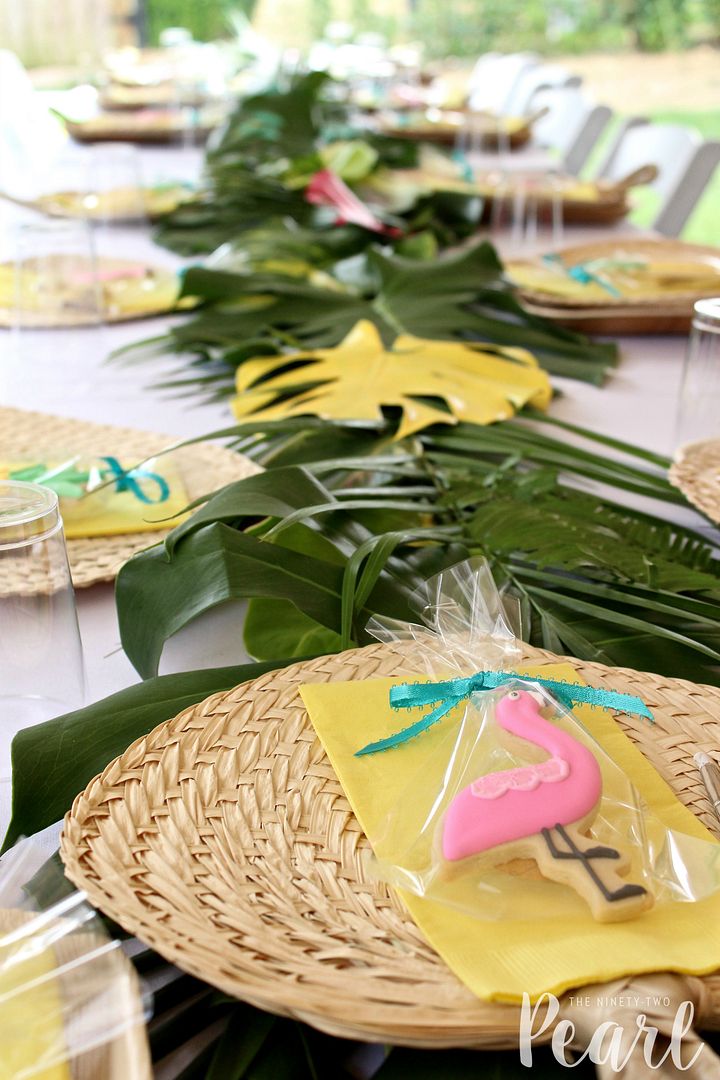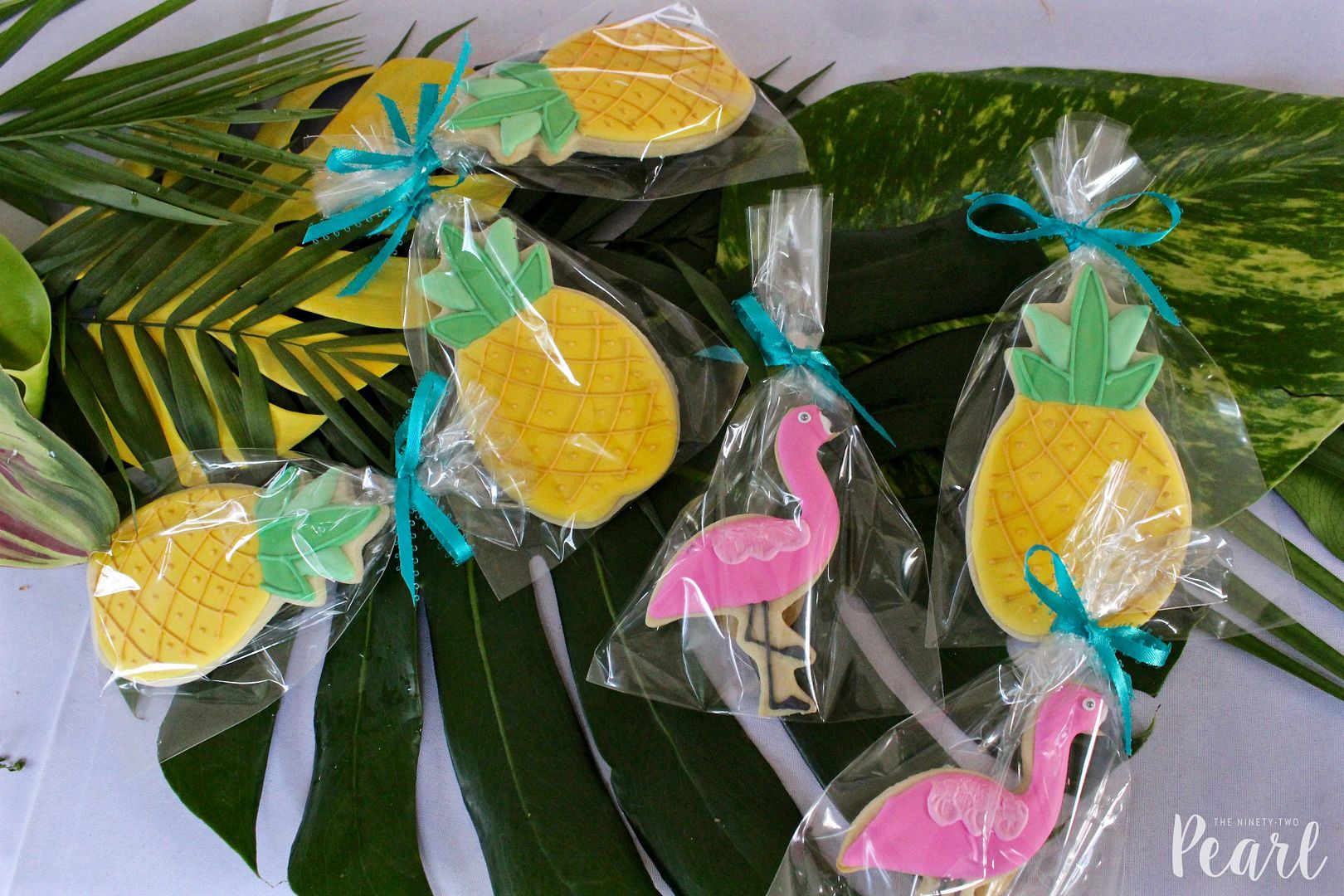 Oh, sugar cookies. I swear sugar cookies are going to be the death of me one day. I am for sure not a professional when it comes to decorating cookies but I have definitely improved since I started. I hate baking but love decorating the cookies so it is kind of a love/hate relationship. We decided on pineapple and flamingo cookies as favors and they came out pretty nice. The place settings were pretty cool too. We got the plates from Smarty had a Party and they were all bamboo and bio-degradable. I was really surprised by the quality. They were great. The fans were a last minute decision but am so happy we did it. It was a casual 90 degrees out that day and the fans were a MUST. Oriental Trading came in clutch with the Raffia fans for our guests.
---
CAKE
Funny story about the cake! So we got this BEAUTIFUL cake from the Cake Diner in Raynham, MA. If anyone every wants a beautiful cake that still tastes DELICIOUS, Cake Diner is your answer. The cake topper we used were my favorite mini pineapples that we painted. They were pretty awesome. We wrapped the bottom of each pineapple with a bit of saran wrap to separate the paint and the cake. Anyways, my sister's lawn is definitely not perfectly level. We tried our best to get the table as level as possible for our desserts and thought we did until about 3 minutes prior to cutting the cake. That is when the cake started to slowly inch forward. I reached for it as quick as possible but at that point the damage was done. At least I got a photo of it before!
---
BACKDROP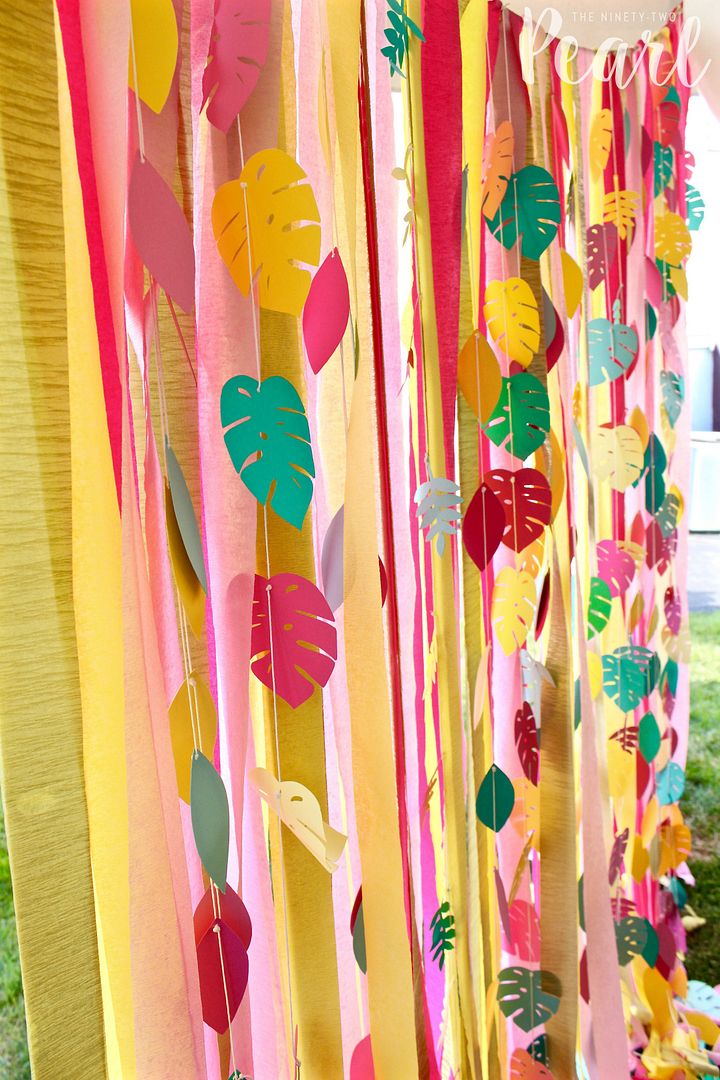 The backdrop was made by first tieing a rope in the corner of our rented tent. We placed a bar on the ground and weighted it with some rocks at each end. We then would wrap the streamers on the top string and tie to the bar at the bottom. I didn't want the streamers going crazy with the wind so this worked pretty well. I made some simple strung garlands with the paper tropical foliage cut by my Cricut! I strung those on in between the streamers and it seemed to work just fine.
---
DESSERT TABLE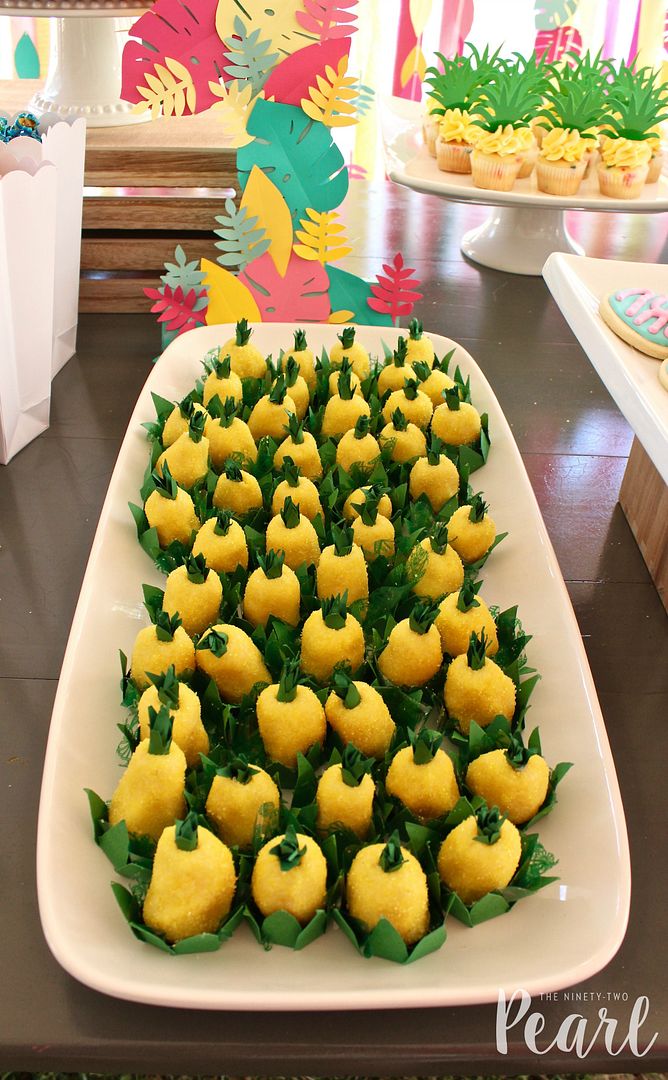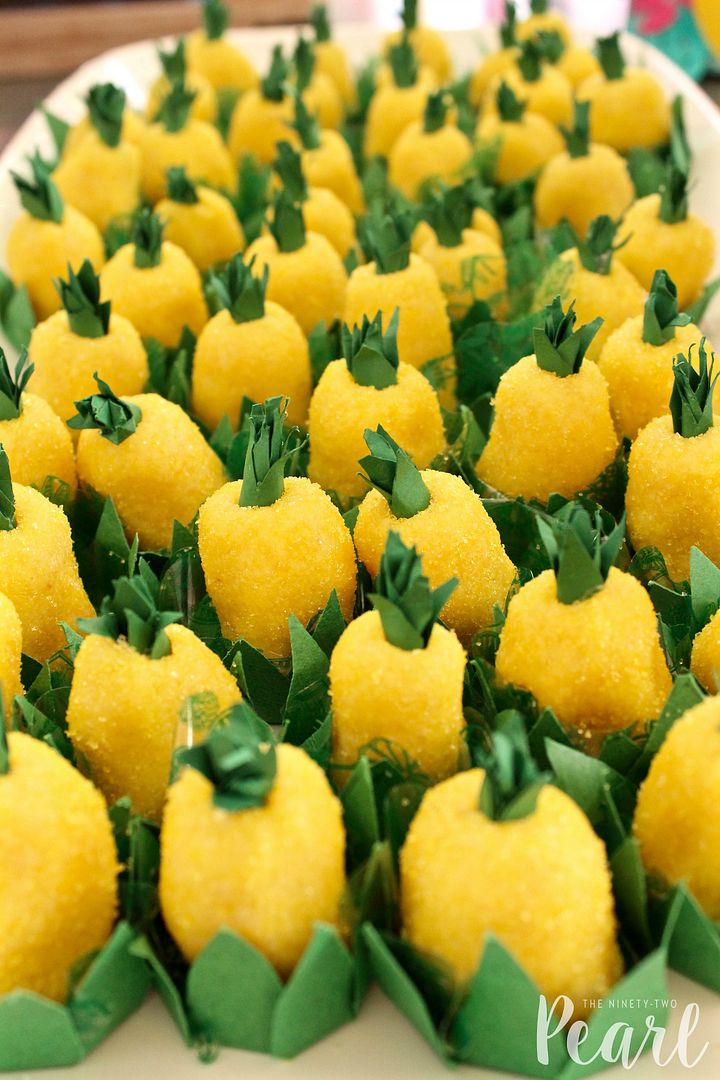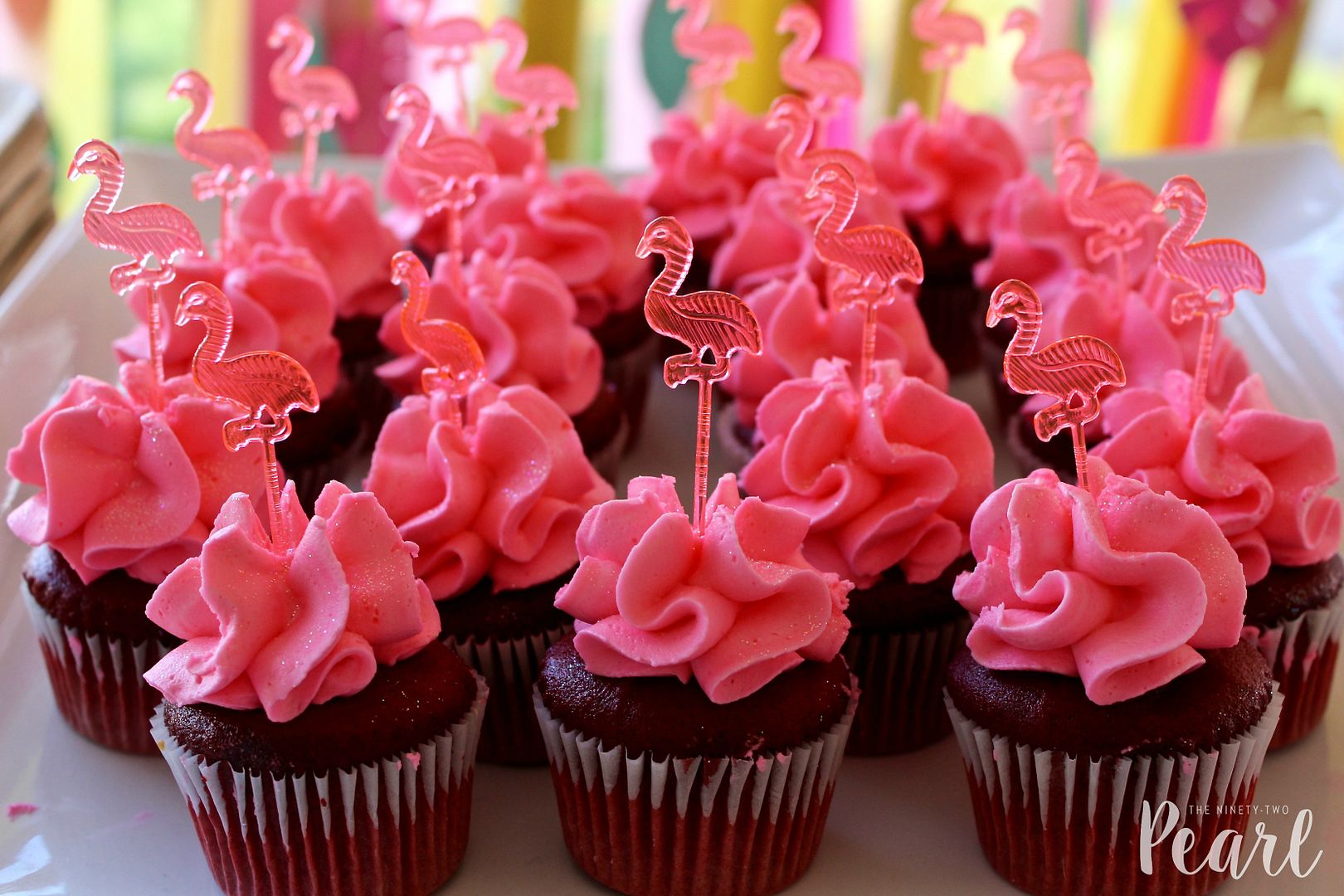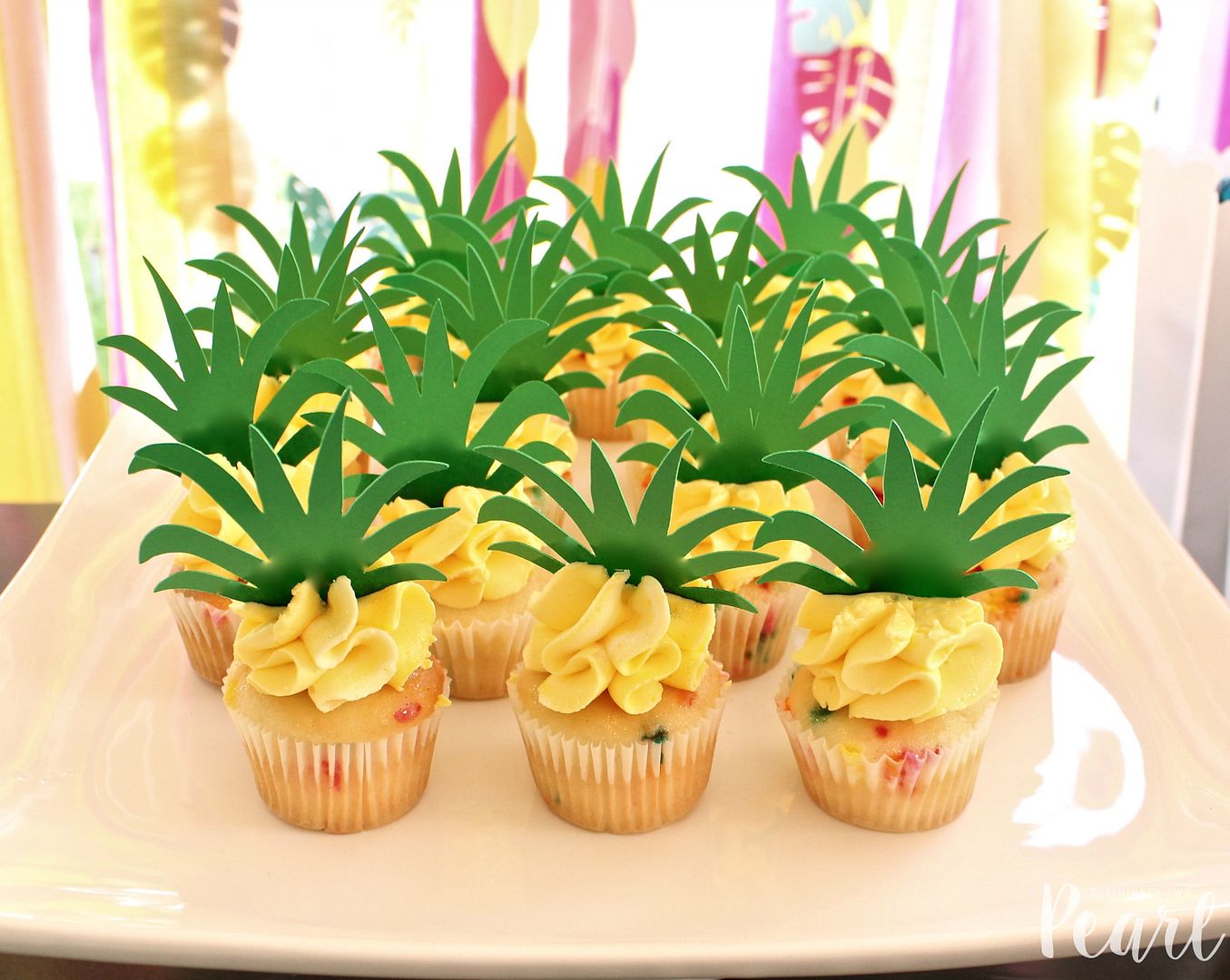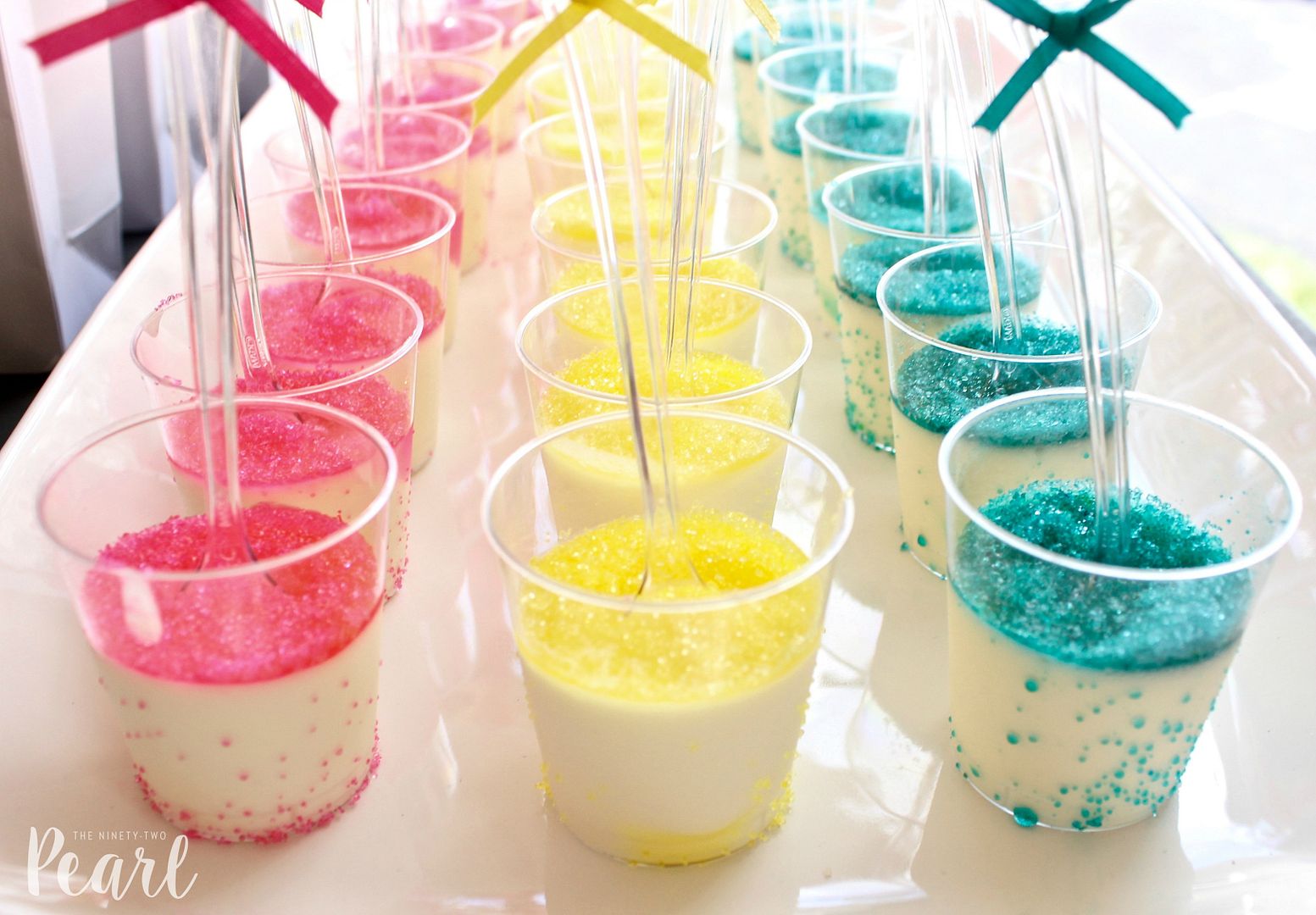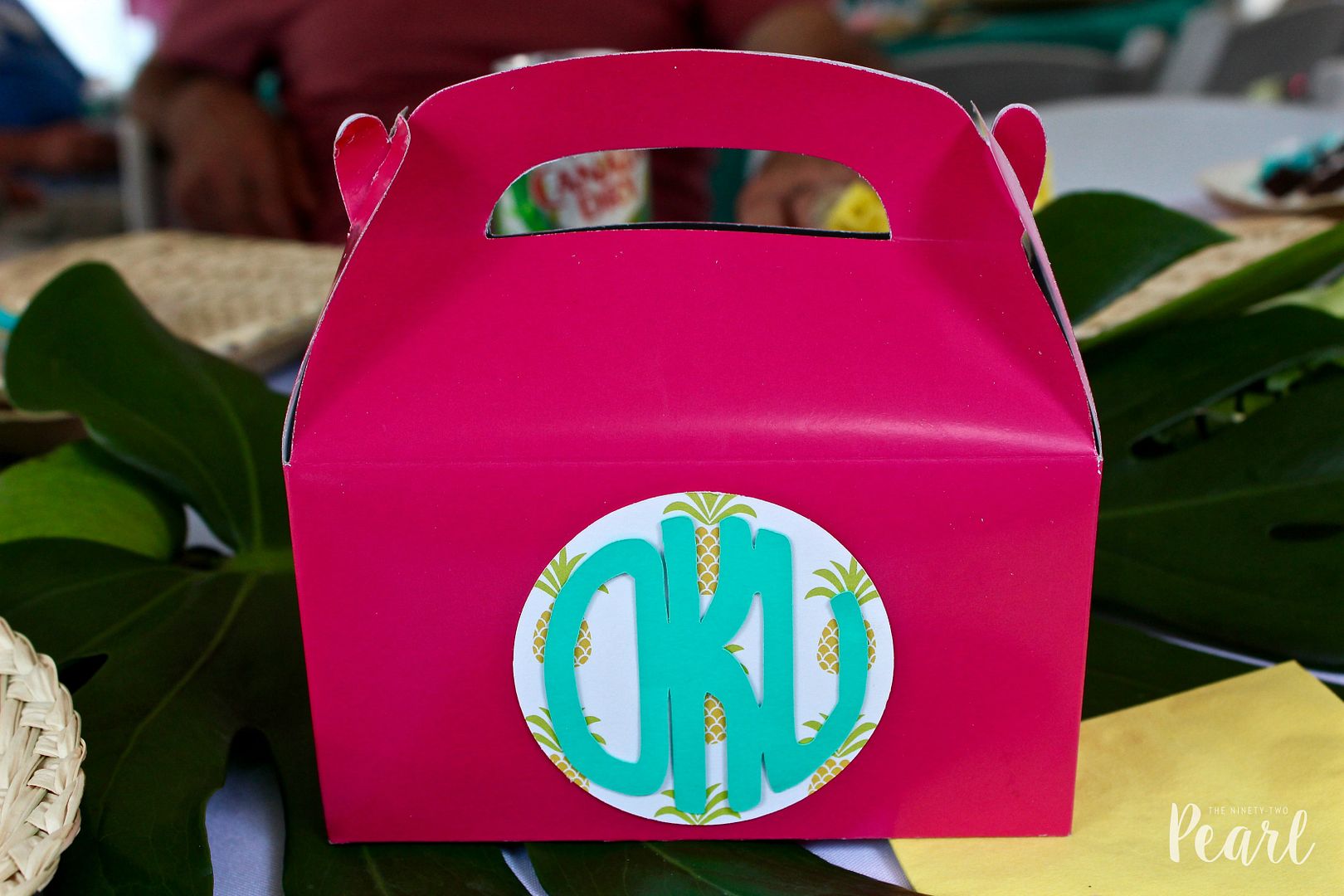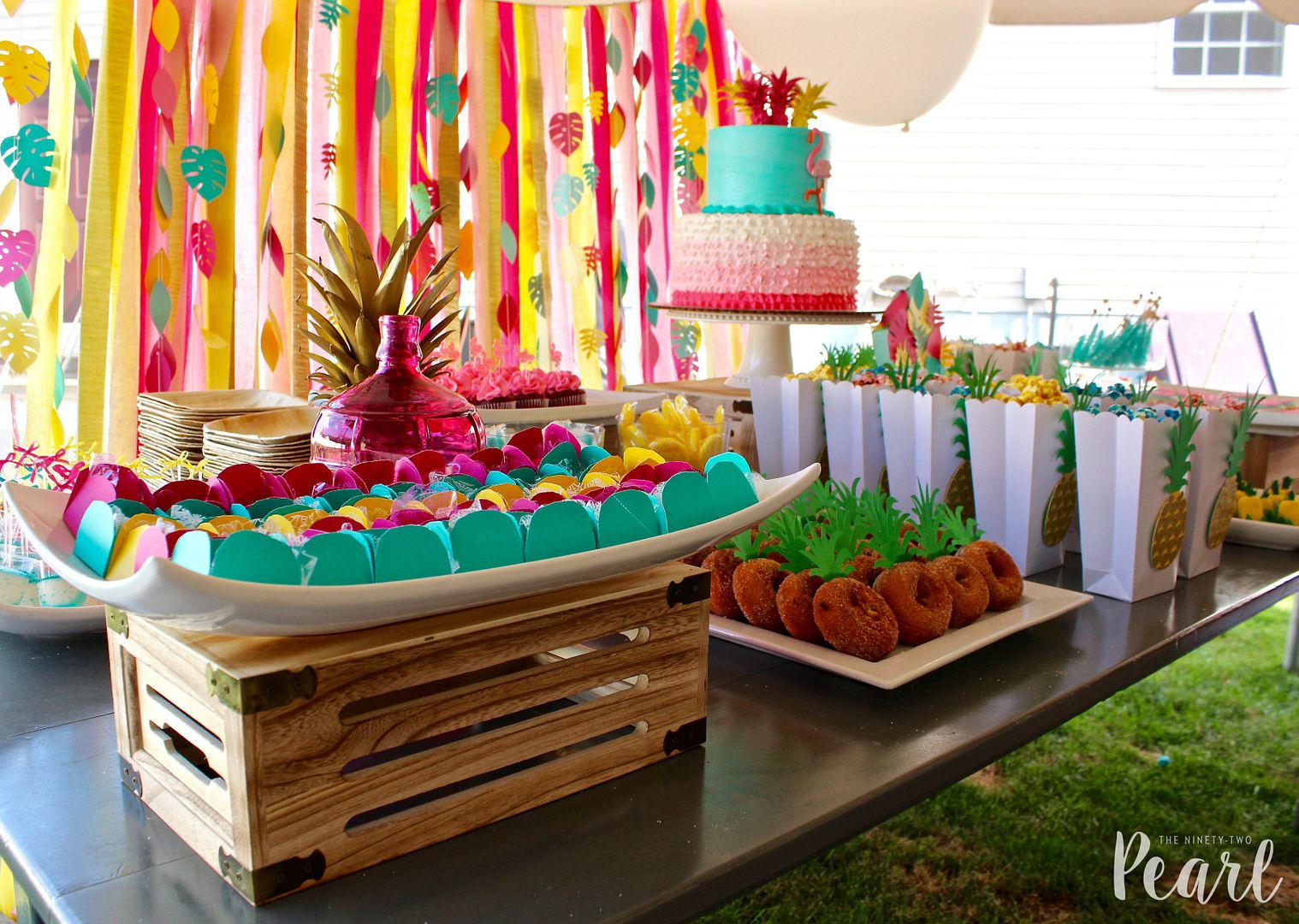 My sister married into a Brazilian family and one thing they do right EVERY single time, is dessert. Honestly, the tastiest desserts you will ever have. Any party you go to, there will most definitely be a large dessert table. To be honest, I couldn't even tell you the names of half the desserts that were on that table but I can tell you that they were heavenly. Some of the paper you see (mostly the pineapples) was made using the Cricut. Our to go boxes were purchased from Amazon, and we stuck some Cricut cut monograms and called it a day.
---
THE END
Told you that you would see some more monograms! I made a few monogram sugar cookies with the leftover cookie dough. Olivia seemed to have loved them!
All in all, as stressful as this day was, it was a great day. Anything to see a smile on Olivia's face even if she won't remember it!