This past week has been literally INSANE. Between work, home and commuting to and from Boston I have not caught a break. I also have been updating a lot of things on my blog and still am. Along with all of that, my mind has been racing with all the posts I want and hope to make and post for the holiday season!!! I am so excited, but all of this excitement and craziness has made me HUNGRY! So I made the best stuffed portobello mushrooms EVER!
I have learned that people either HATE mushrooms or LOVE mushrooms. The people who love them usually get the weird looks from the people who hate them. I love mushrooms so I embrace the weird looks. I am obsessed with mushrooms. I could eat them with everything, on everything at any time really. Whenever I think of different recipes I try to incorporate mushrooms anywhere I can. So needless to say, this recipe is right up my alley. They are so big and filling you could easily make one as your meal with a small side or two. You could also substitute the portabello mushrooms with smaller mushrooms so you could easily pop them in your mouth as an appetizer.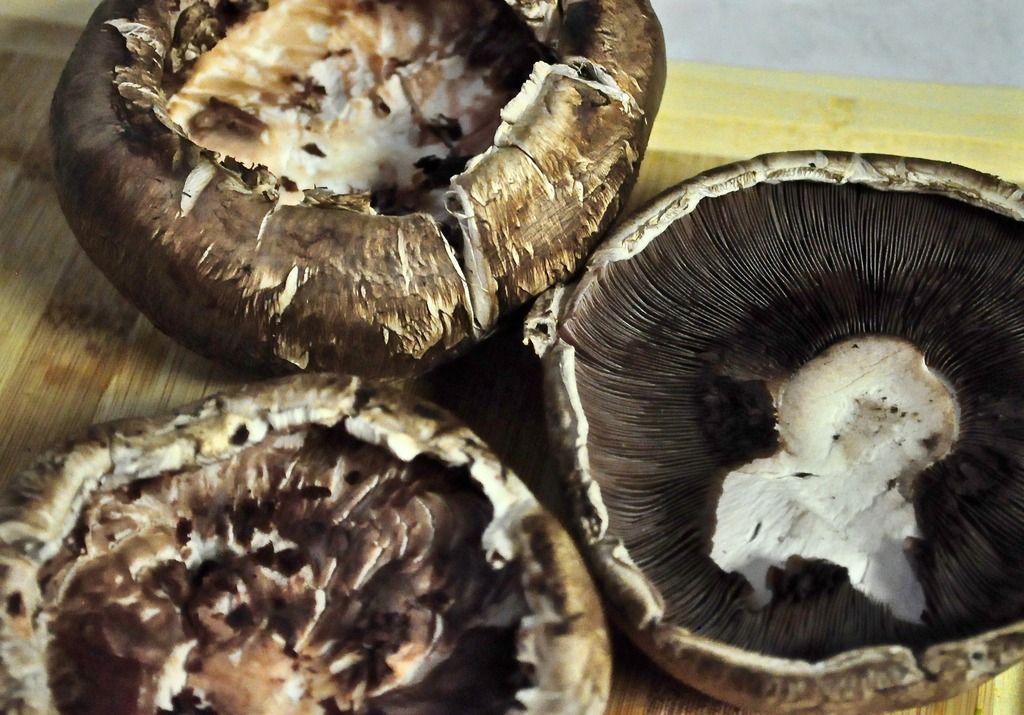 Start off with your mushrooms. Remove as much of the gills as you can. It is almost impossible to completely clean the inside of your mushrooms so they look pretty. Thankfully you don't need them to look nice because you are going to fill it with stuffing goodness.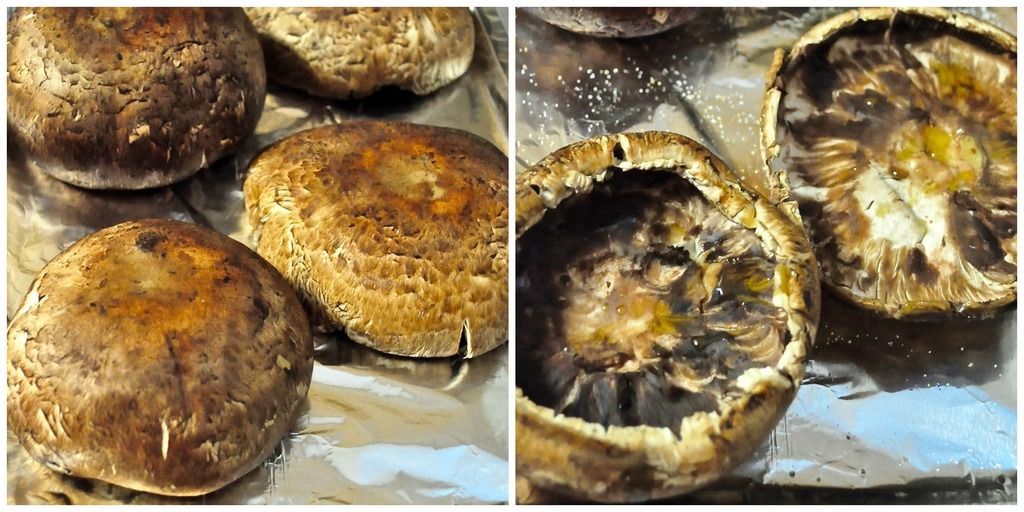 Place your mushrooms on a cookie sheet. Season both sides with olive oil, salt and pepper.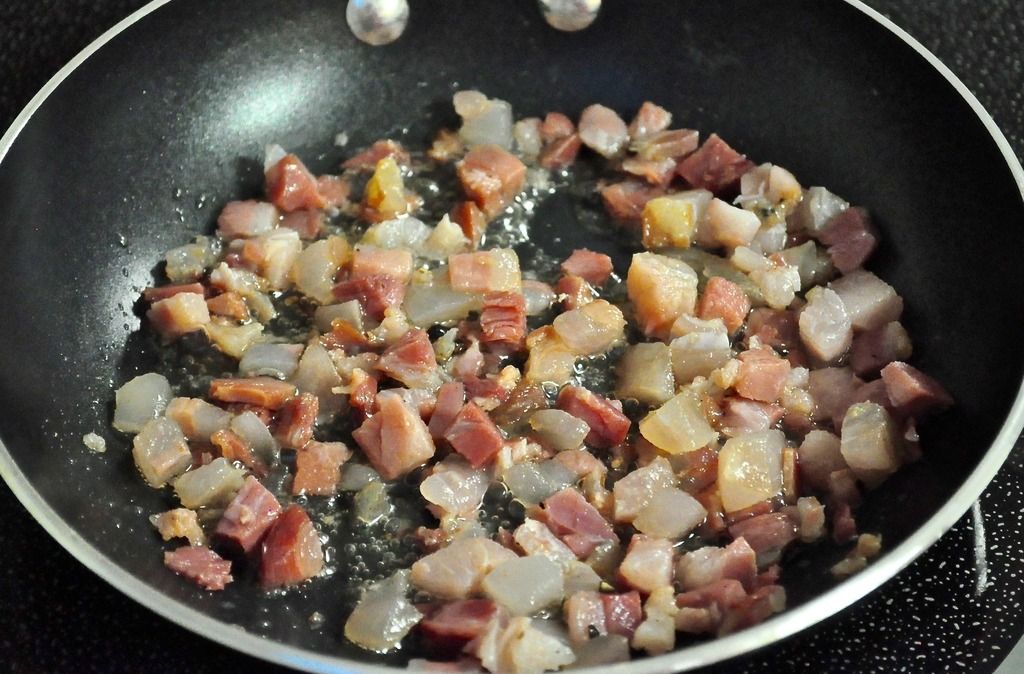 On medium high heat, cook up your pancetta until it starts to crisp up. Remove the pancetta, leaving the oil from the pancetta in the pan.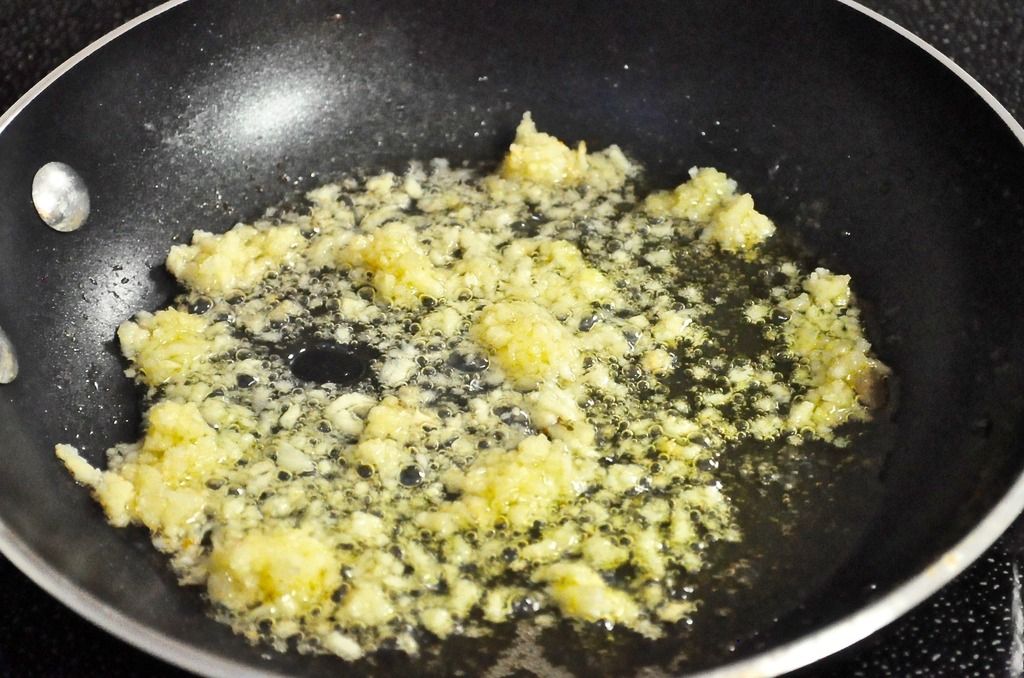 Cook your garlic in the same oil until fragrant, 1-2 minutes.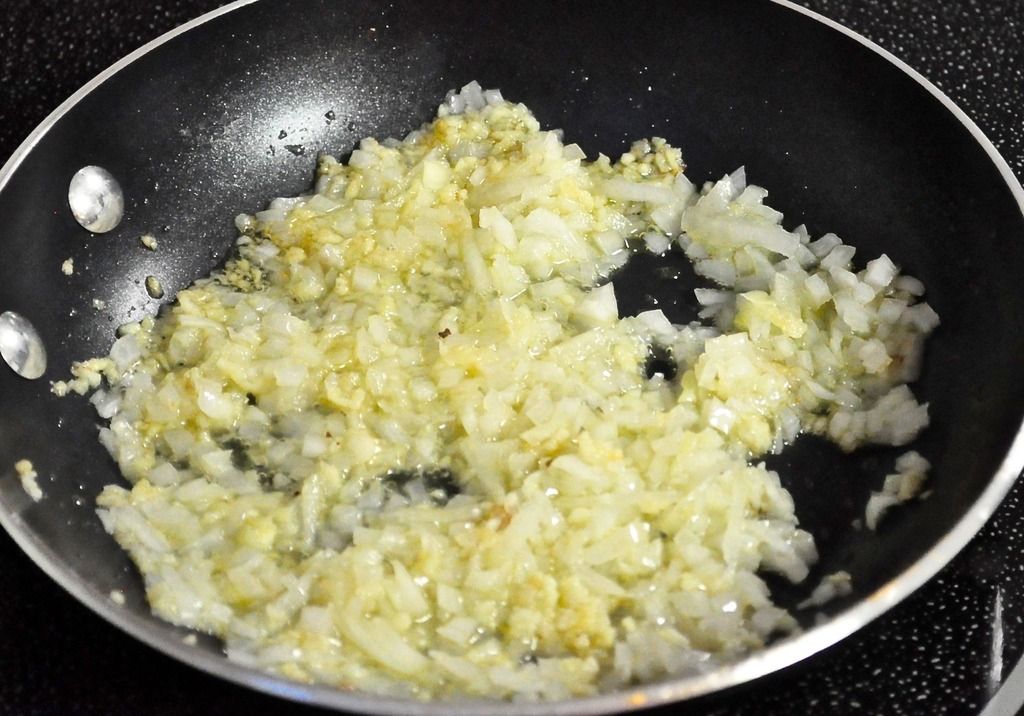 Sauté the onions until translucent, 2-3 minutes.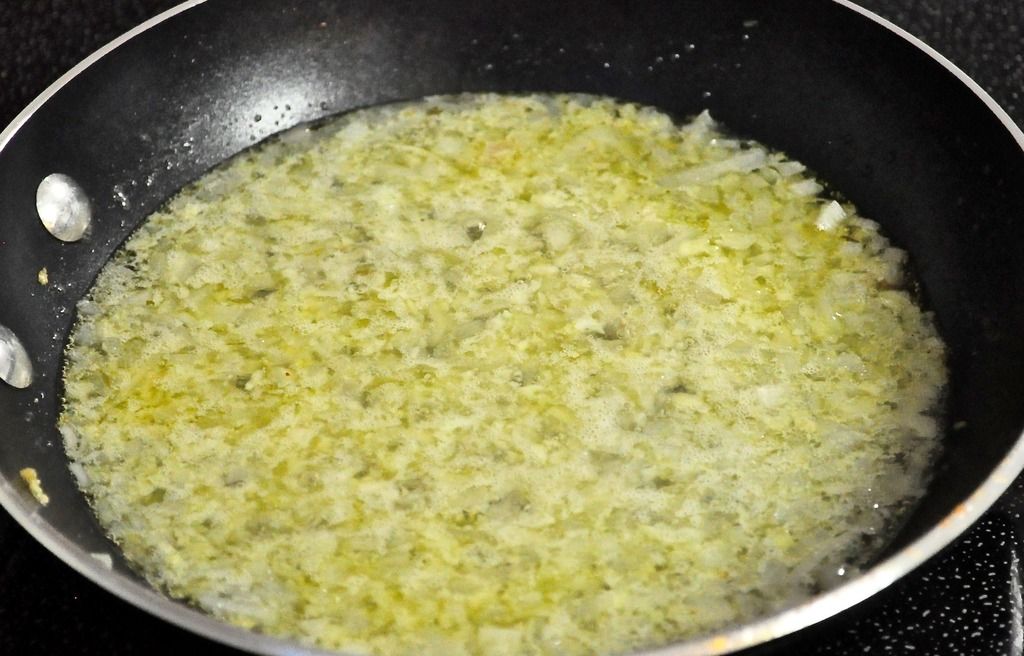 Pour in the white wine and let it simmer for about 6-7 minutes or just until it reduces to a bit more then half.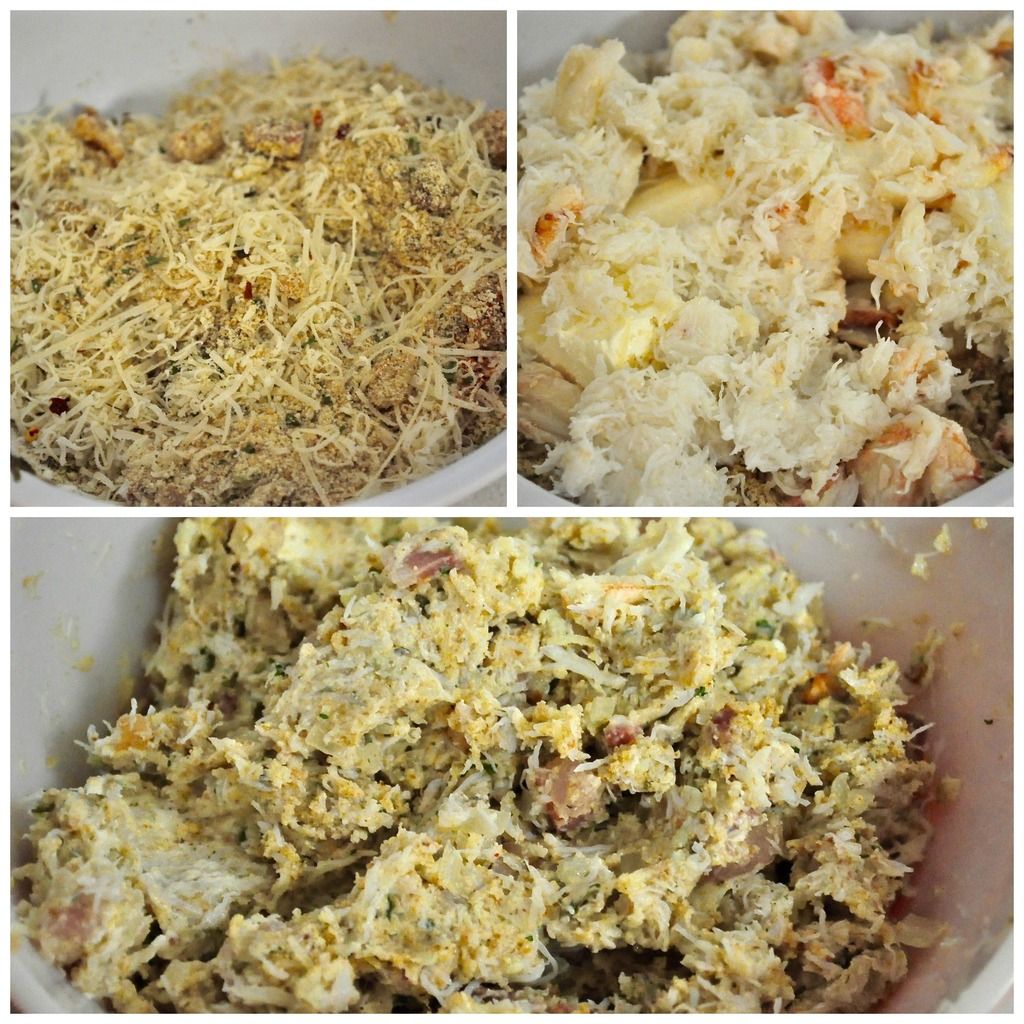 In my printable directions, I have you gather your dry ingredients first, combine the liquid then add the crab meat. Follow that. You can use these pictures as a reference. Combine all the ingredients until it is a stuffing consistency.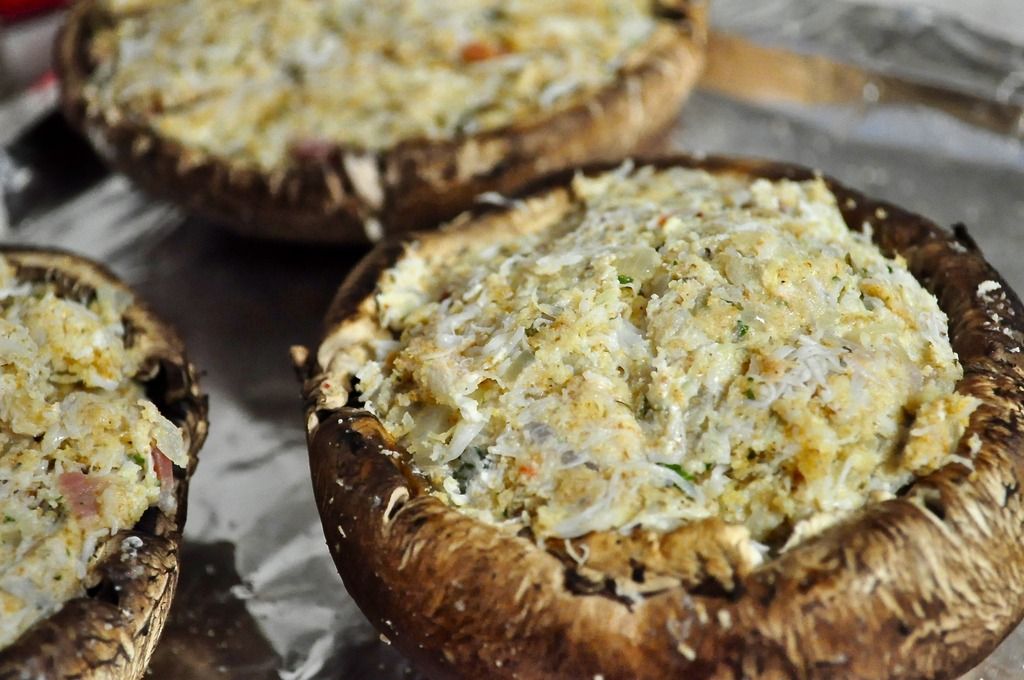 Stuff those bad boys with as much as you can but try to keep it even.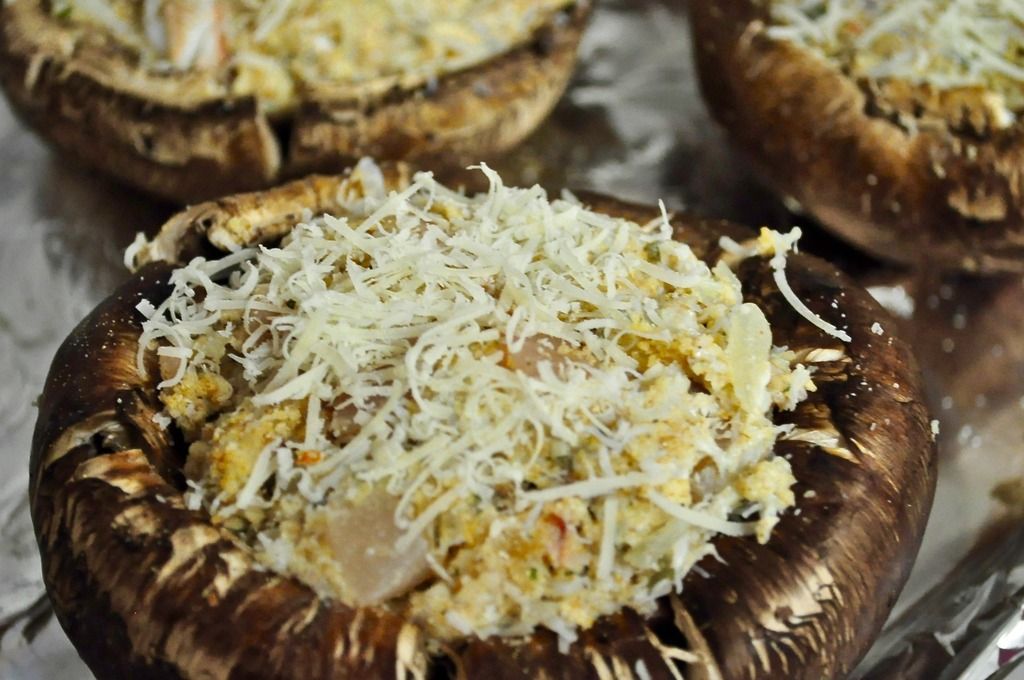 You can sprinkle with a bit more parmesan cheese if you would like. This stuffing is already fairly rich so you might want to opt out of this part! Throw the mushrooms in the oven for 17 minutes and then ENJOY!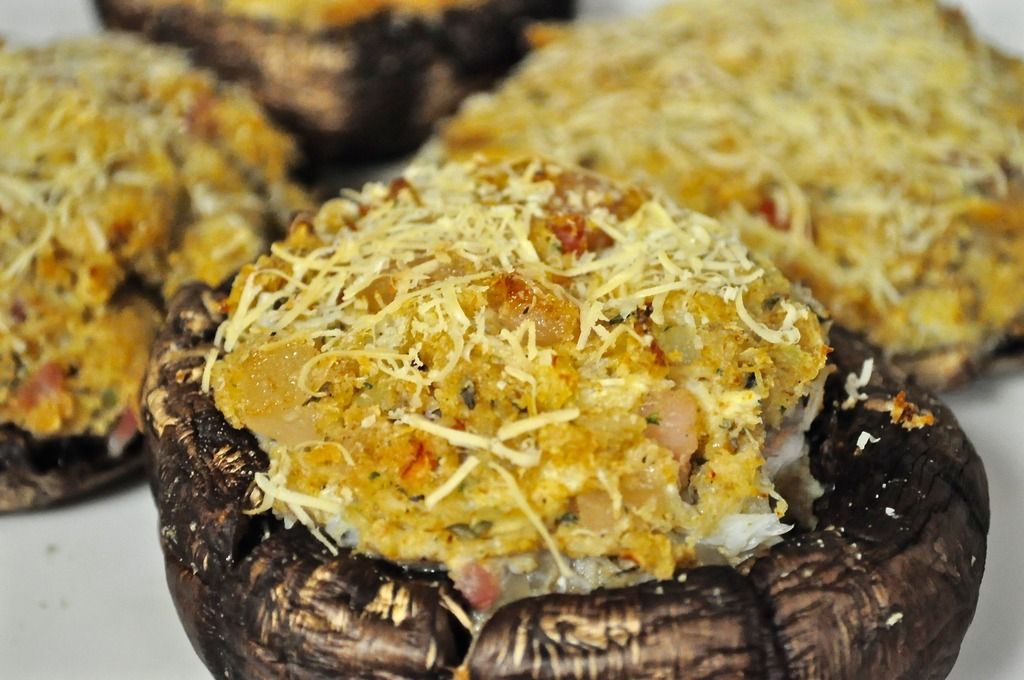 ---
Pancetta & Crab Stuffed Portabello Mushrooms
Ingredients
4 Portabello mushrooms
1-2 tbsp of olive oil
3 cloves of garlic, minced
1/2 cup of yellow onion, finely chopped
1/2 cup of white wine
3 oz of pancetta
4 oz of cream cheese
6-7 oz FRESH crab meat
1 cup + 1/4 cup of garlic & herb breadcrumbs
1/4 cup of parmesan cheese, grated
1 tsp parsley
1/2 tsp basil
1/2 tsp oregano
1/2 tsp of paprika
1/4 tsp of red chili flakes
Instructions
Preheat your oven to 375°.
Using a spoon, remove the gills from the mushrooms. Place the mushrooms on a cookie sheet. Drizzle olive oil on both side of the mushrooms and sprinkle salt and pepper.
In a bowl, combine the breadcrumbs, parsley, basil, oregano, paprika, chili flakes, Parmesan cheese and cream cheese.
Heat a small frying pan over medium heat. Heat and slightly crisp up the pancetta for about 4-5 minutes. Remove the pancetta from the frying pan and place it in the bowl. Keep the fat in the frying pan over medium heat.
Place the garlic in the frying pan and sauté until fragrant, without scorching, about 1-2 minutes. Bring the onion into the frying pan, sauté for another 2-3 minutes until onions become translucent.
Pour the white wine into the pan and let simmer until reduced by almost half, 5-6 minutes. Pour the white wine, onion, garlic mixture into the bowl with the dry ingredients.
In the bowl, mix all of your ingredients together until a stuffing like consistency begins to form. Mix in the crab meat. Season with salt and pepper.
Stuff the mushrooms evenly with the stuffing. Top the mushrooms with Parmesan cheese and some salt and pepper.
Place in the oven for about 16-20 minutes. Removes from the over let cool for about 5 minutes and serve!
http://theninetytwopearl.com/pancetta-crab-stuffed-portabello-mushrooms/
---