The new year has made me think about certain goals and dreams that I had kept on the back burner. I decided to pursue something I have wanted to do since as long as I could remember. I was so lucky to help out at a recent event and I have decided to take on Event Styling. I will definitely be posting more soon regarding this new venture but now I want to talk about this event.
This past weekend, I had the pleasure to help out a wonderful family in celebrating a beautiful mother-to-be, Krista! They had decided on a Princess theme and as I continued to create pieces for the decor, I started to fall in love with the idea. My niece, Olivia, is the first baby in the family and to say we treat her like a princess would be an understatement! Something about having a new little girl in the family makes the whole family forget everything and focus on her.
This "Party" post is slightly different then my other party post. I made a lot of DIY linked posts for the last one but I didn't have much time with the holidays to take all the picture and posts. If there is anything specific you see on this post that you are really interested on how I made it, don't hesitate to message or comment and I can try to make a tutorial as soon as possible!
CENTERPIECES
So the party consisted of four long tables, that included two vases on each. Each vase was filled with silver sand and five handmade wands. We had some candles and large hand punched confetti matching the wands. Since I have gotten my Cricut, I have gone crazy with paper crafts. The star wands were cut with my machine and the tulle pom-poms I made separately. There is a this great YouTube video that shows you exactly how to make it. I also used an insane amount of ribbon for all the wands but I think it was the perfect touch!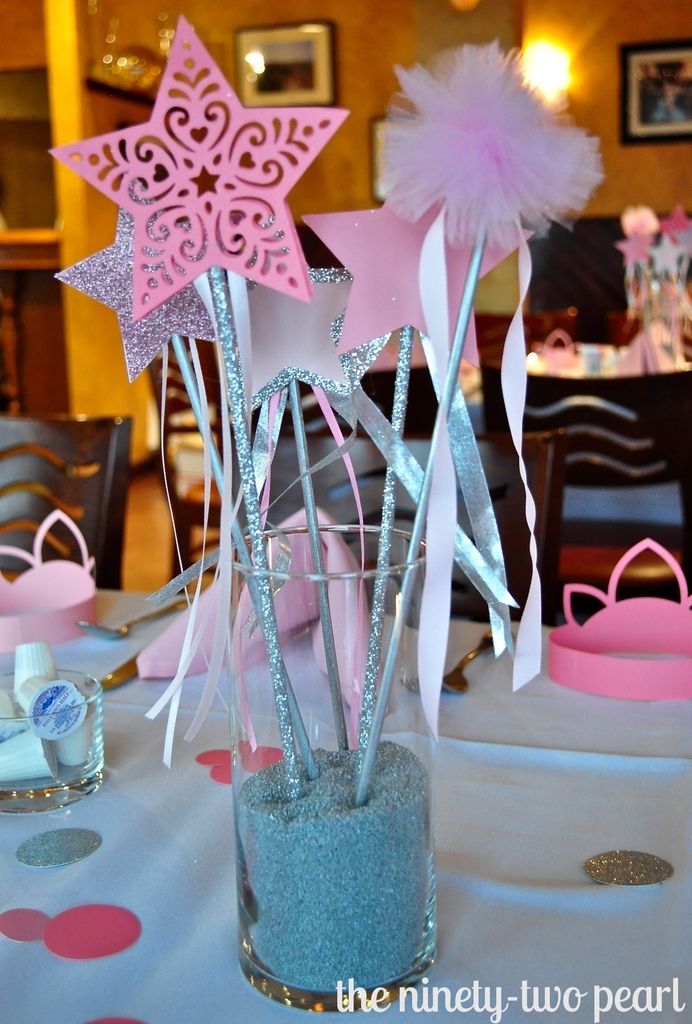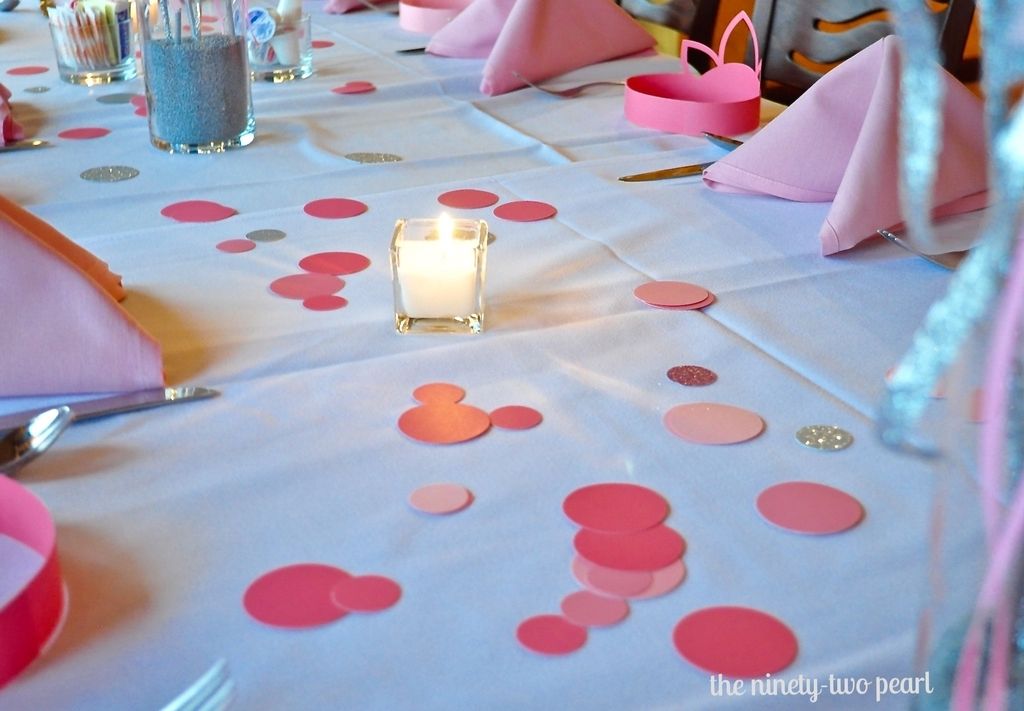 Along with the centerpieces, there were paper crowns, also made with my Cricut, with each seat. This was by request of the ladies throwing the party and I seriously LOVED this idea. It gives the table something extra without taking away from the centerpieces!
CAKE TABLE
So I am not quite sure how I managed to NOT take a picture of the beautiful cake, but I did and I regret it so bad. I am hoping to get a picture soon of it so I can add it to this post. I did hand make the cake topper. I found the idea on Pinterest. This is the tutorial I sort of used. It is not in English but it does have pictures so I followed some of it and added my own rhinestones to it!
I also mad a "Princess Gracie" banner, mostly with my Cricut. I used ribbon and cardstock!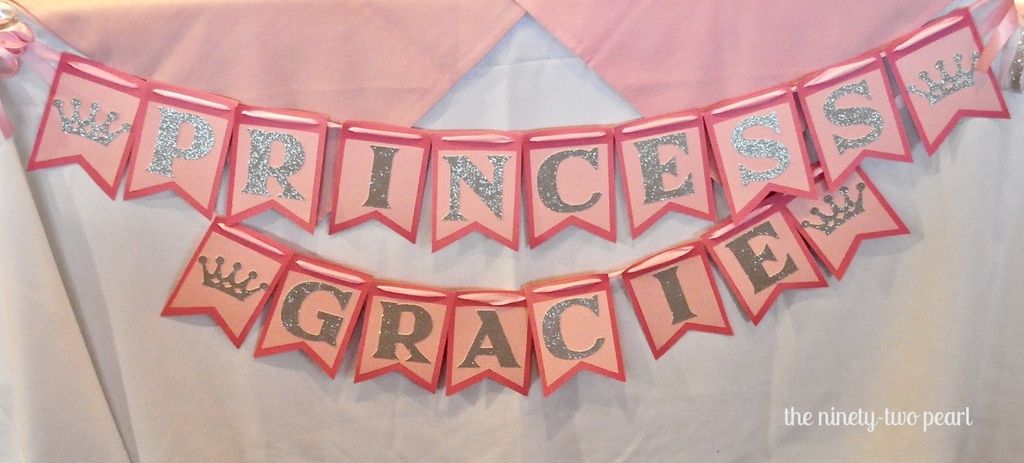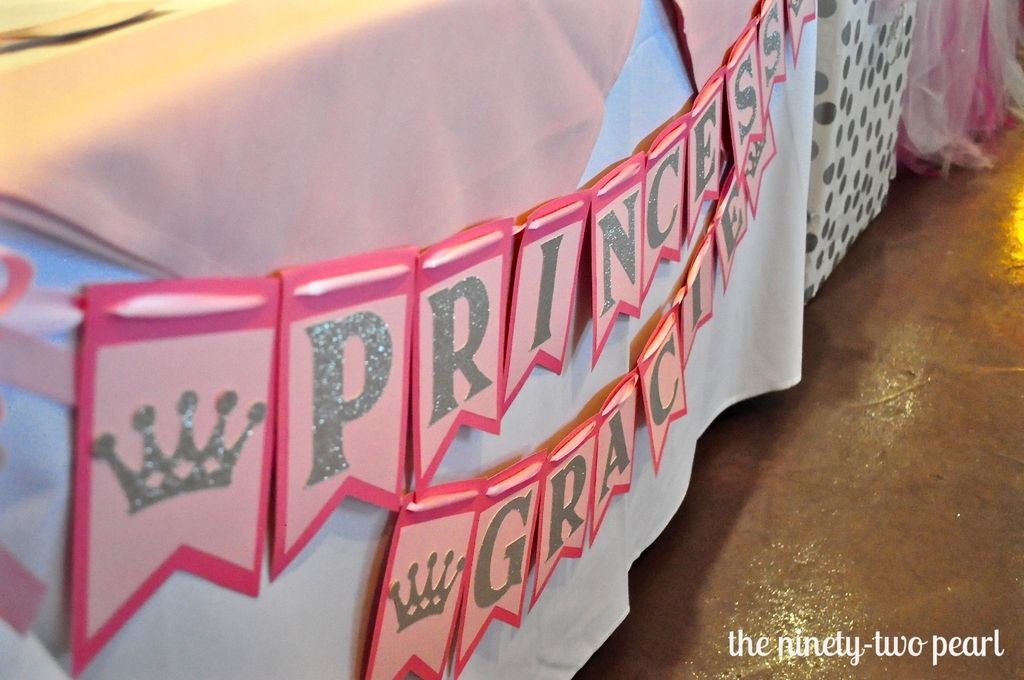 GIFT TABLE & MIMOSA BAR
I didn't do much with the mimosa bar but I did make a few more signs and extra wands for it. I bought some unfinished frames from Michaels and cut out some paper crowns, etc. with of course – my Cricut! (I really can't say enough about this magical machine!)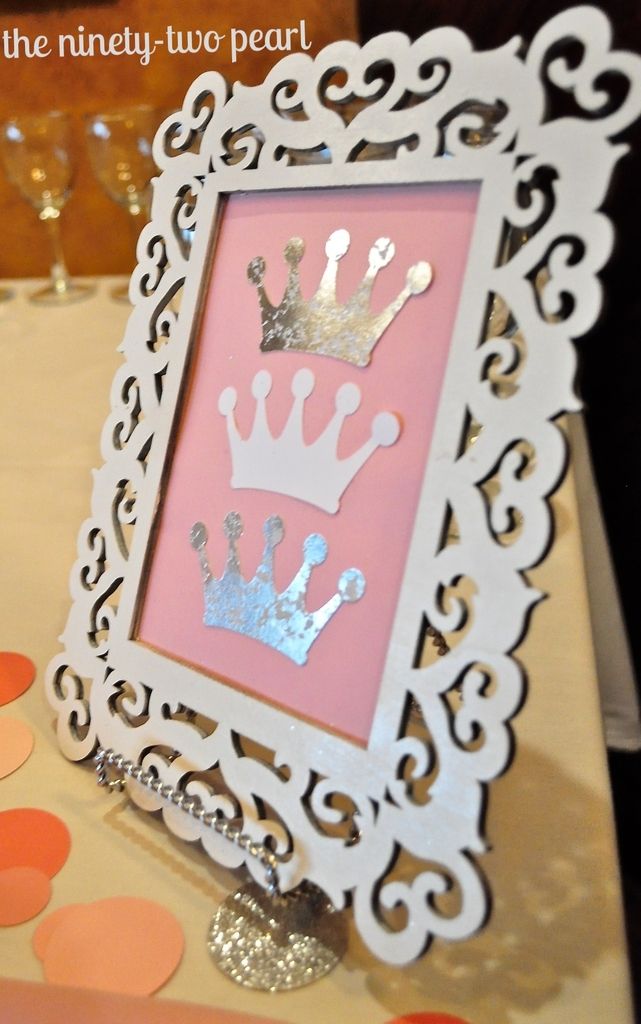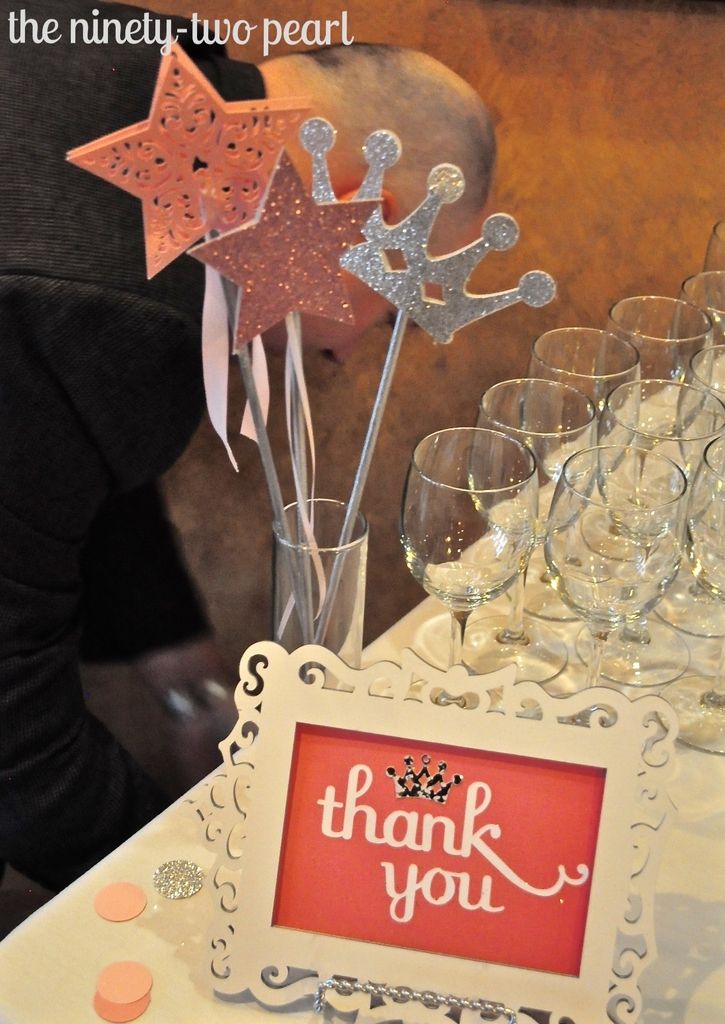 So, on to the gift table! I made this slightly too large (I had to trim it last minute) tulle skirt with literally miles worth of tulle! On top of that I had bought the letters to spell out "Gracie". I spray painted them, and then glued glitter to the edges. It was fairly easy to make and was a great personal touch!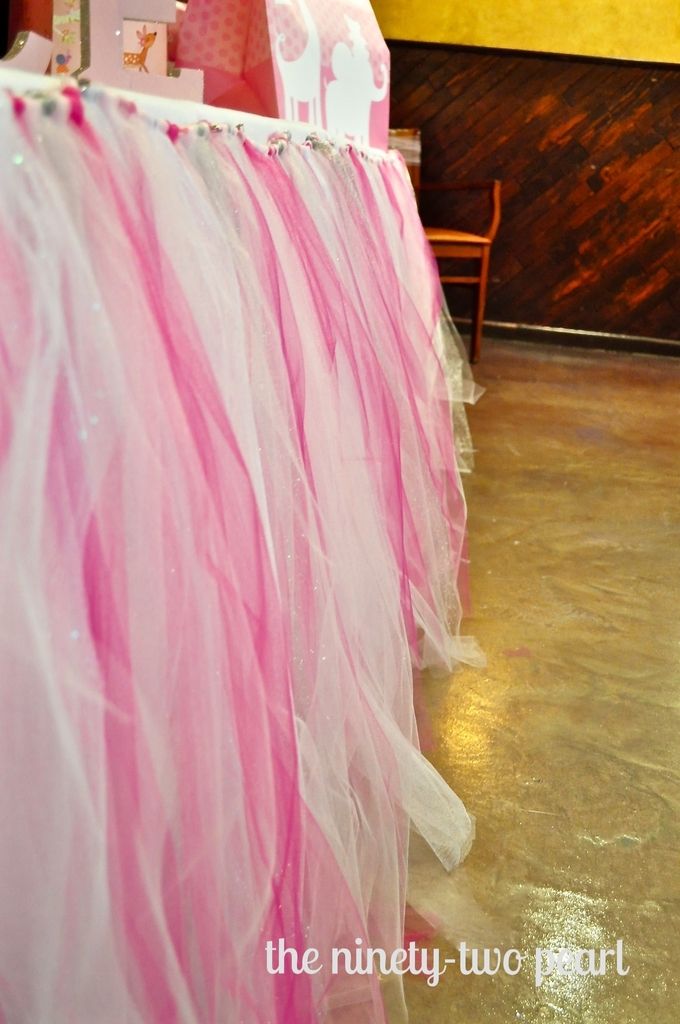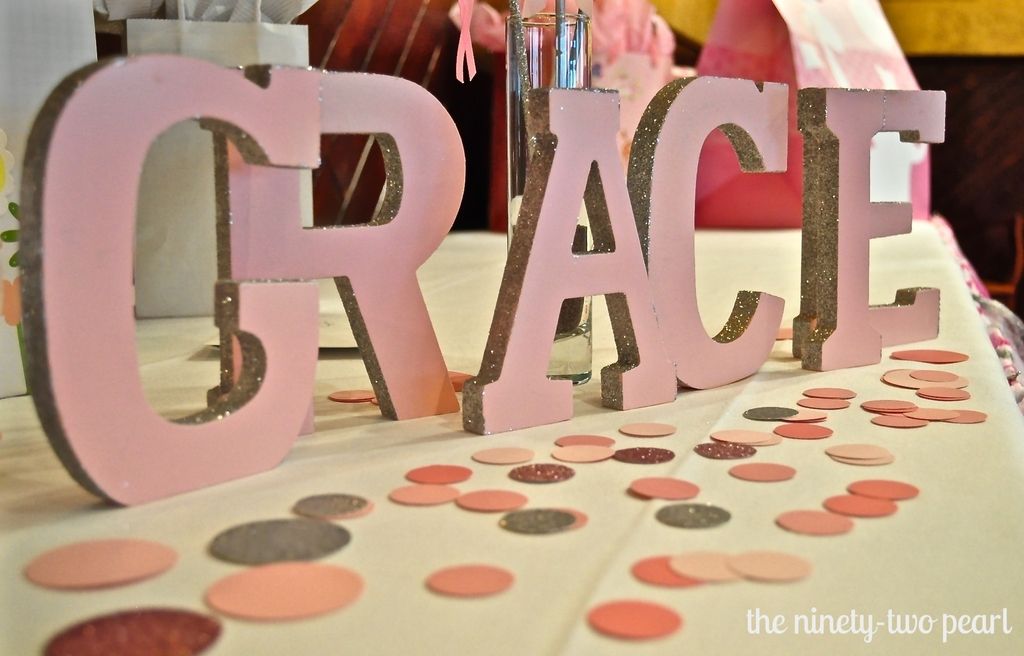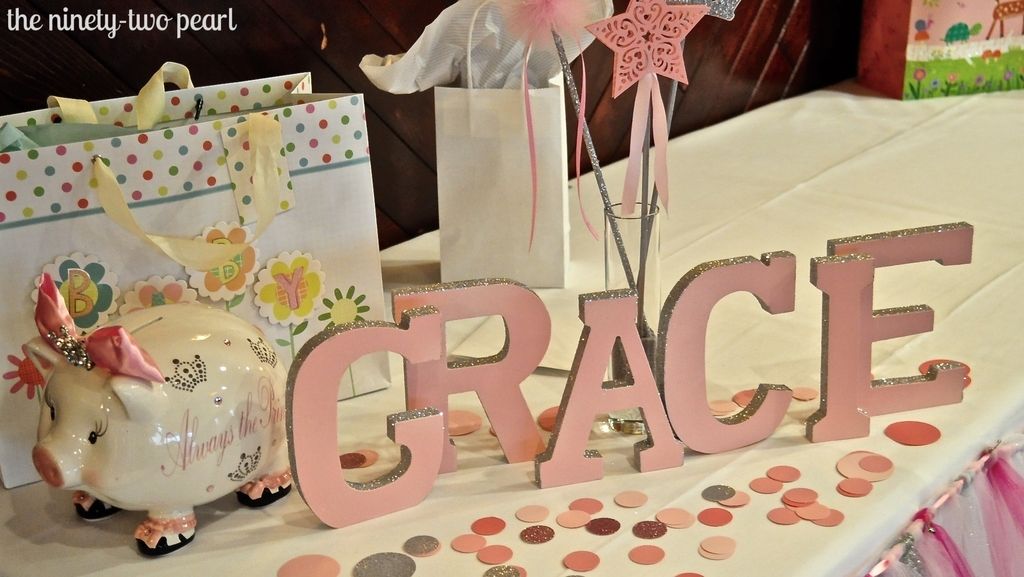 I also made pins for the future Nanny, Nana and Mom-to-Be. They were simple. I made some fabric flowers and attacked some ribbons to it! Hopefully I will get some more photos soon, but for now I have the Mom-to-Be pin to show you!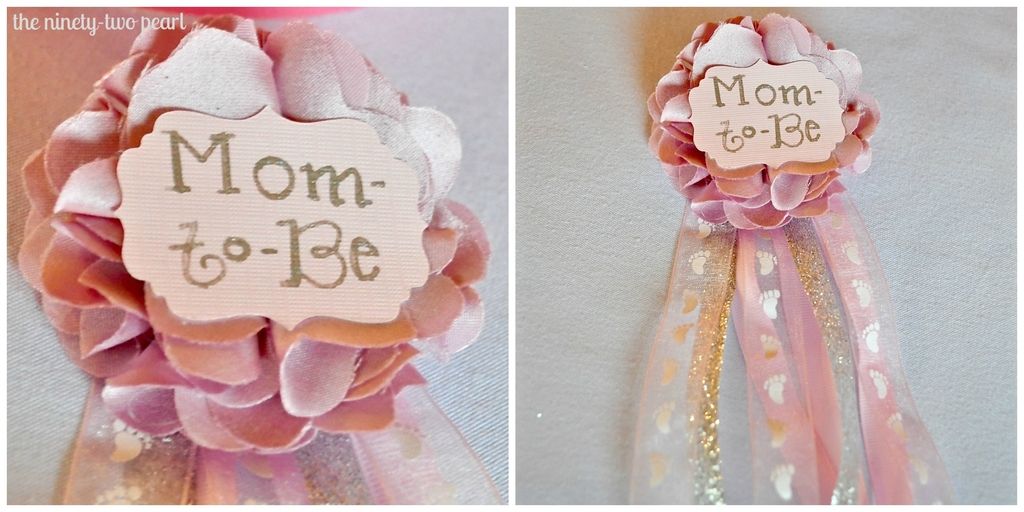 FAVORS
So for the favors, I made delicious sugar cookies! I made star and princess crown shaped stars topped with pink royal icing! They weren't anything crazy to be honest but I think they matched the event perfectly! I took a cake decorating class about two years with a great group of girls so my sister and I have just about anything you could possible need to decorate cookies and cakes. I kind of liked the cake decorating thing for a little while but I am much more interested in decorating sugar cookies and cupcakes. Each favor had one princess crown and two stars. I wrapped up each favor with ribbon and a paper tag. I wrote a "G" on each tag using my silver calligraphy ink!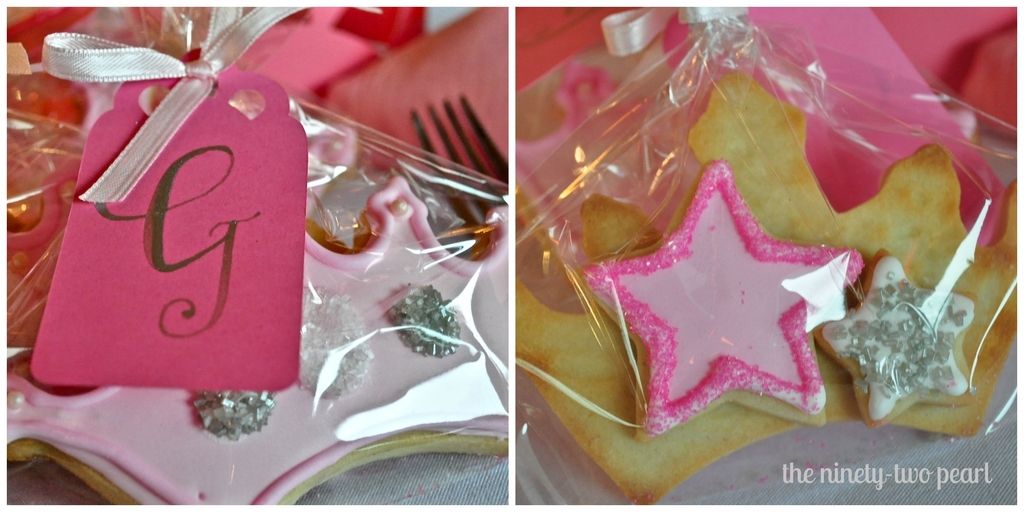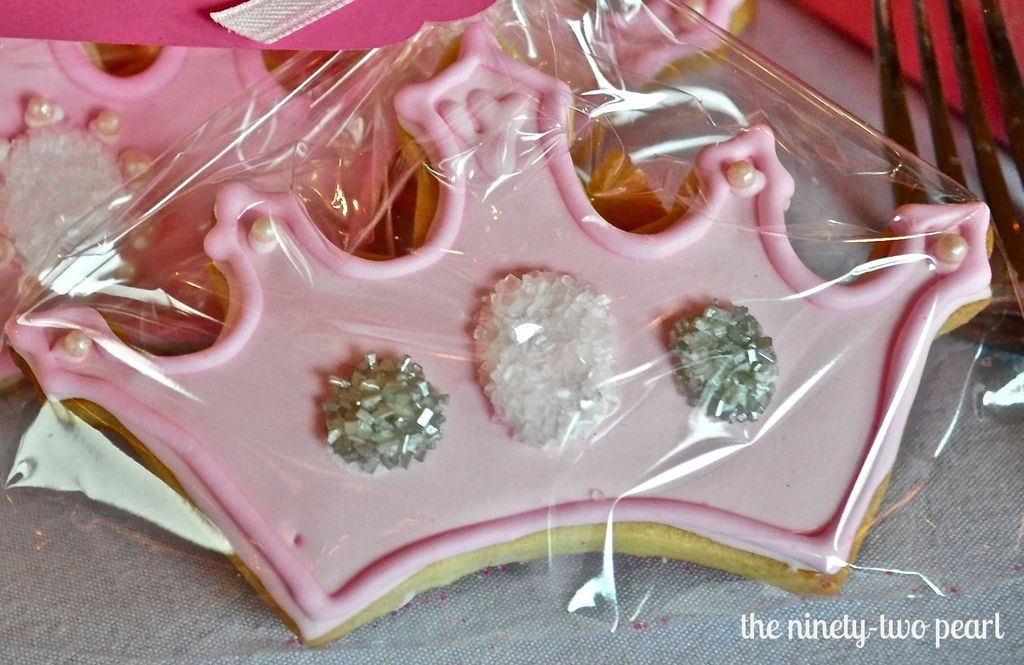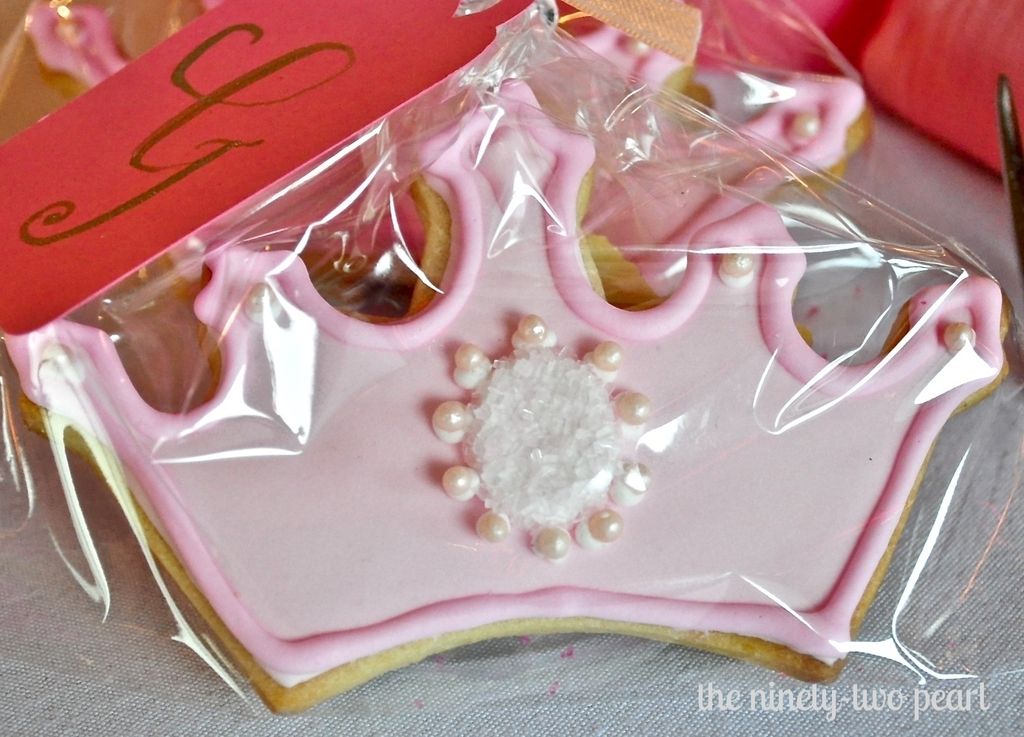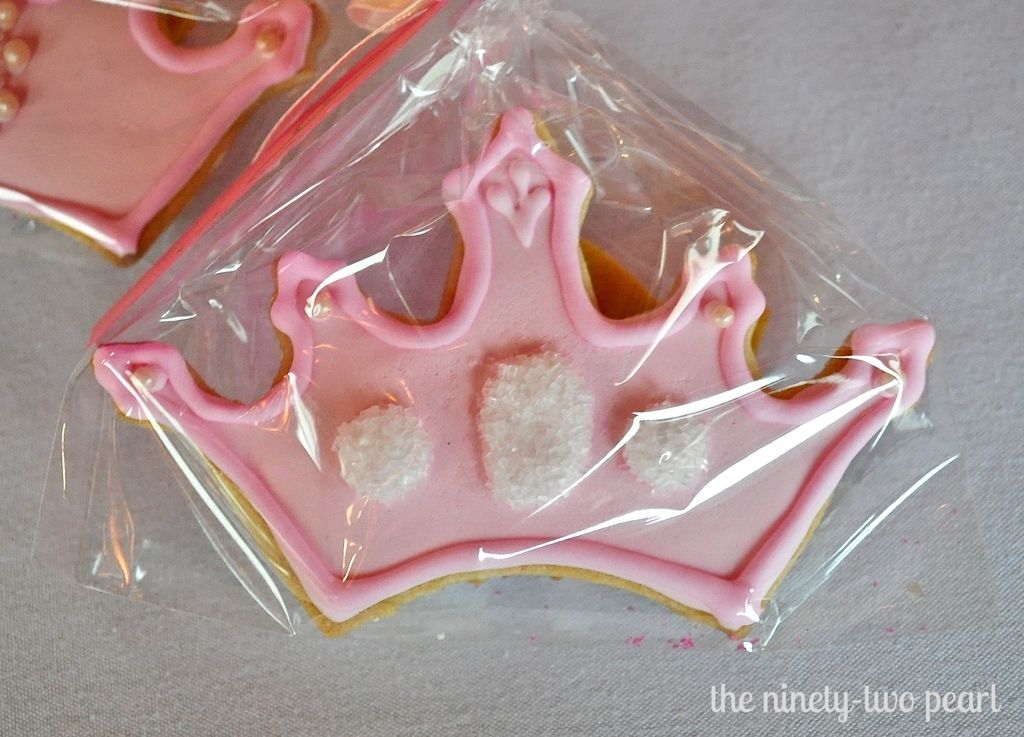 Hopefully I can get a few more pictures of the shower soon so I can show you more! I couldn't thank this family enough for letting me participate in this special day! I can't wait to continue on this journey and show you guys what I have been dreaming up for you!