Remember me? I have been beyond MIA this summer and I think it was exactly what I needed. I needed to figure things out, organize my life and help my family. Between some crazy family events and making the decor/floral arrangements for my first wedding, I have barely found anytime to breathe… literally. But that is then and this is now, and right now I am back, baby!!!!
Anyone who knows me, knows that I am a HUGE foodie. For Christmas last year, my boyfriend got me the KitchenAid pasta attachment. It was in the corner of the kitchen, still wrapped in the box up it came in up until about 2 weeks ago. I was really intimidated to make my own pasta for a long time, so I tried to avoid it. Well, I have learned that it really is not bad at all! I purchased a recipe book that goes through step by step directions on how to make fresh pasta which gave me the push to just do it. Considering it was my first try, I don't think I did too bad. I might have to make fresh pasta once a week at this rate! (just kidding; I wish I had time for that though!)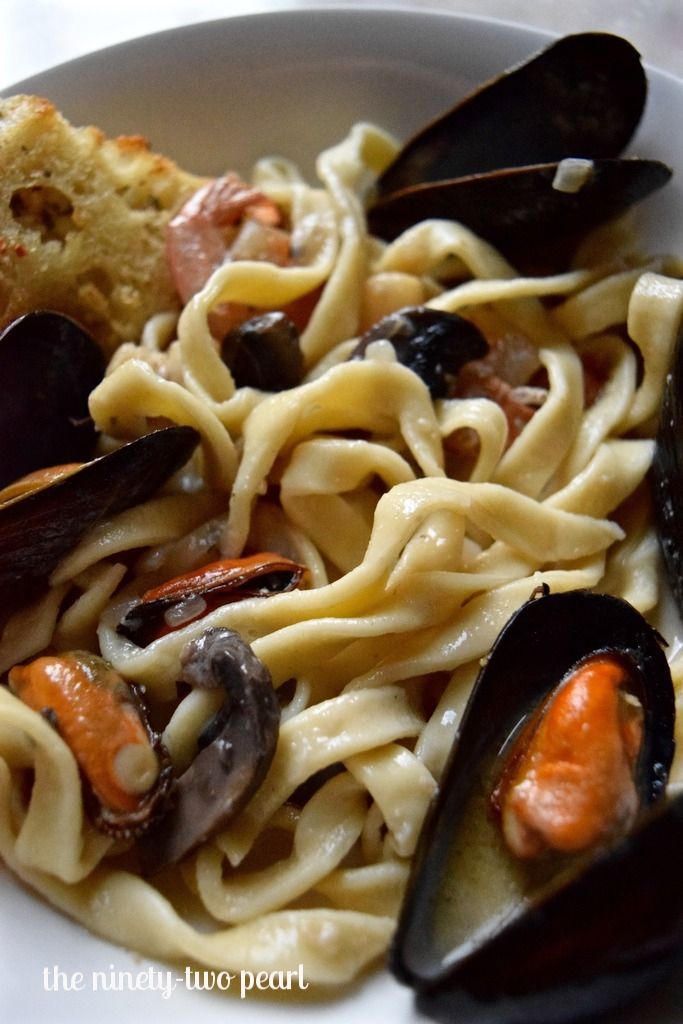 So it is still the summer, so I have been full SEAFOOD mode. There is no better time to eat it when you live in New England! I wanted to make a creamy sauce, but I wanted it  to be closer to a broth then a  thick cream sauce. I wanted to be able to dunk it with some crusty bread. I hope you guys love it!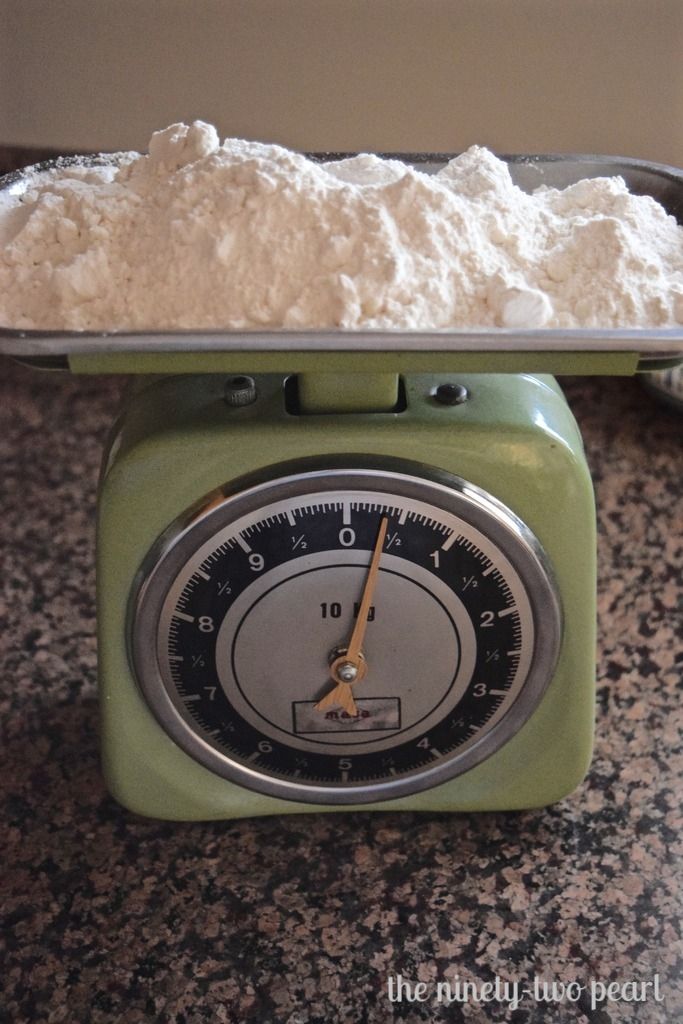 I only really took this picture because I am kind of obsessed with my mom's old kitchen scale. Lesson One on pasta making- exact quantities are absolutely necessary. No questions.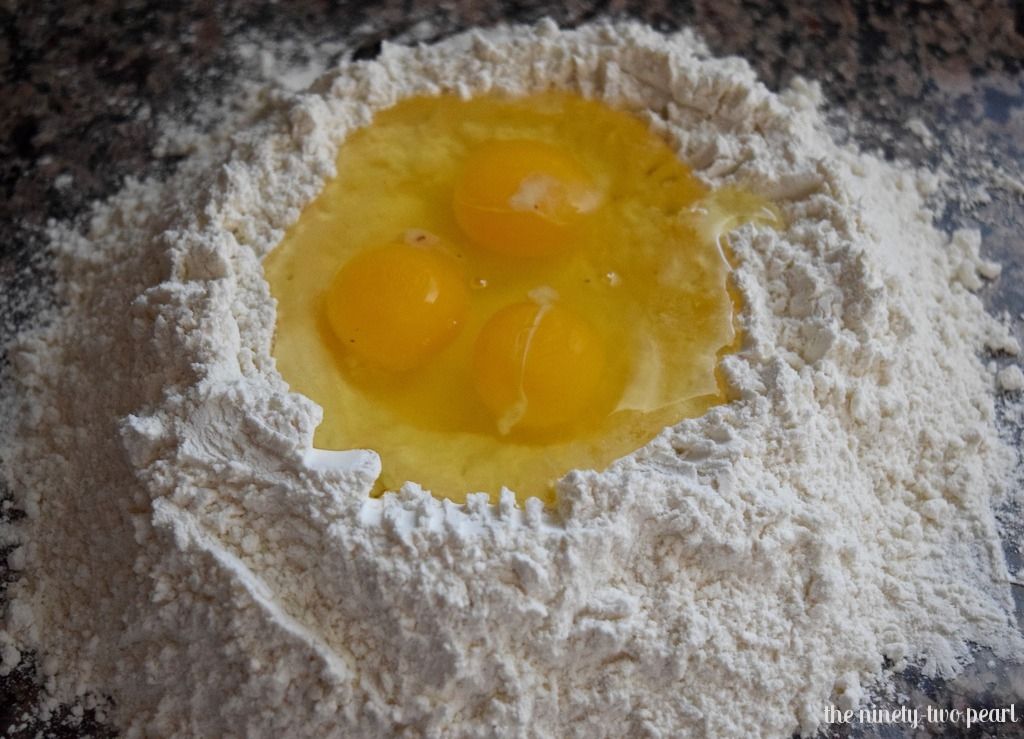 The "token" fresh pasta photo.
http://i736.photobucket.com/albums/xx1/abcamara/Seafood%20Pasta/DSC_0598_zpssz4wkero.jpg
Voila! I made it! I couldn't believe it. Alright, now lets get down to business!!!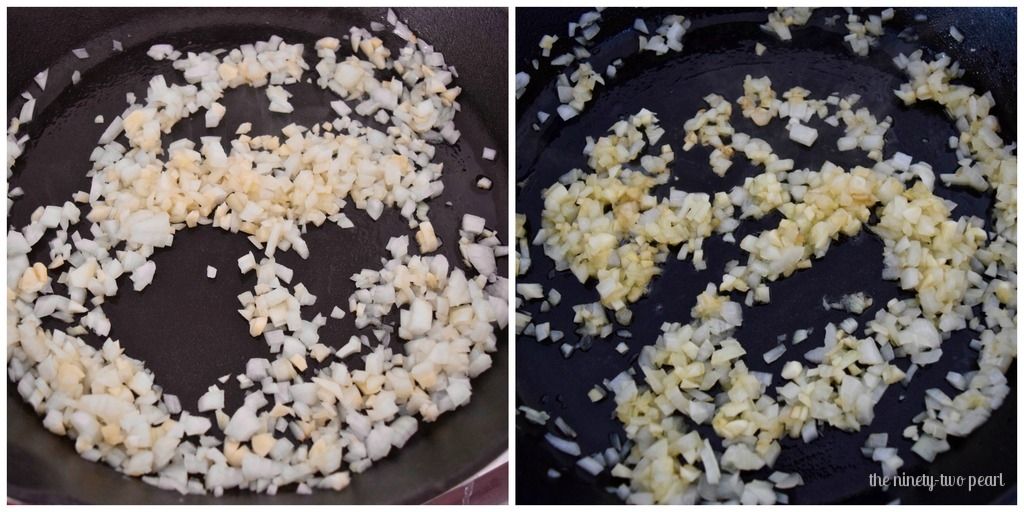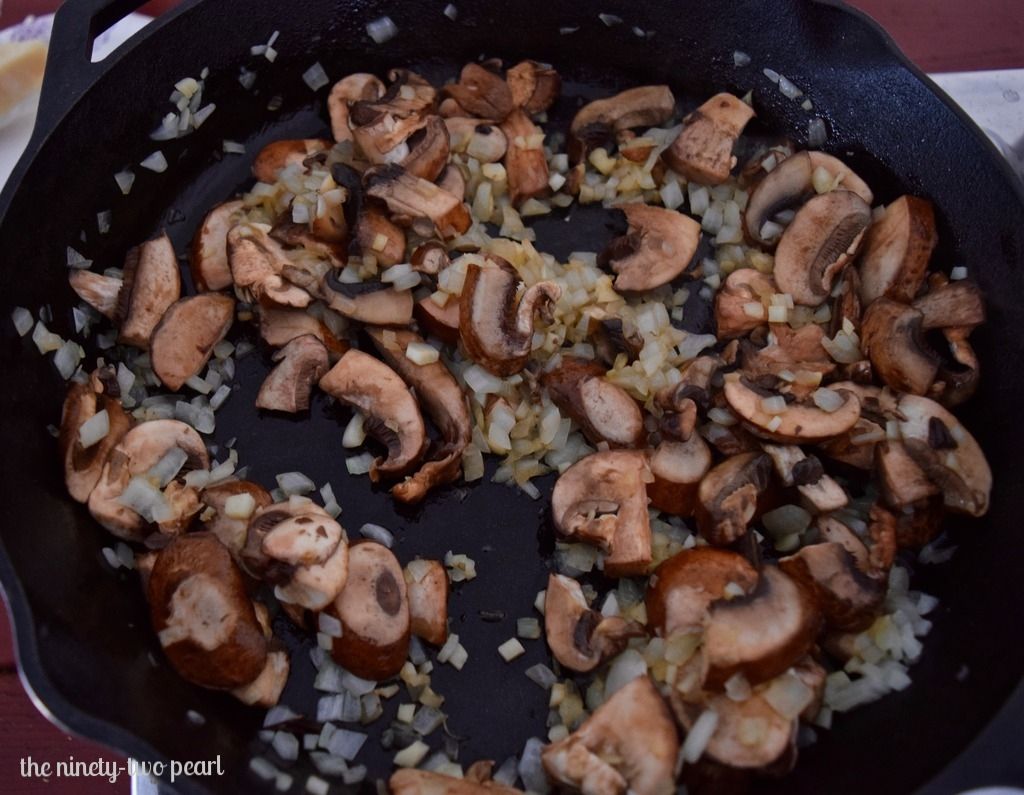 Heat up 2 tbsp. of the olive oil in your skillet. Throw in the garlic and onions until fragrant. Throw in the mushrooms and cook until tender, about 5 minutes.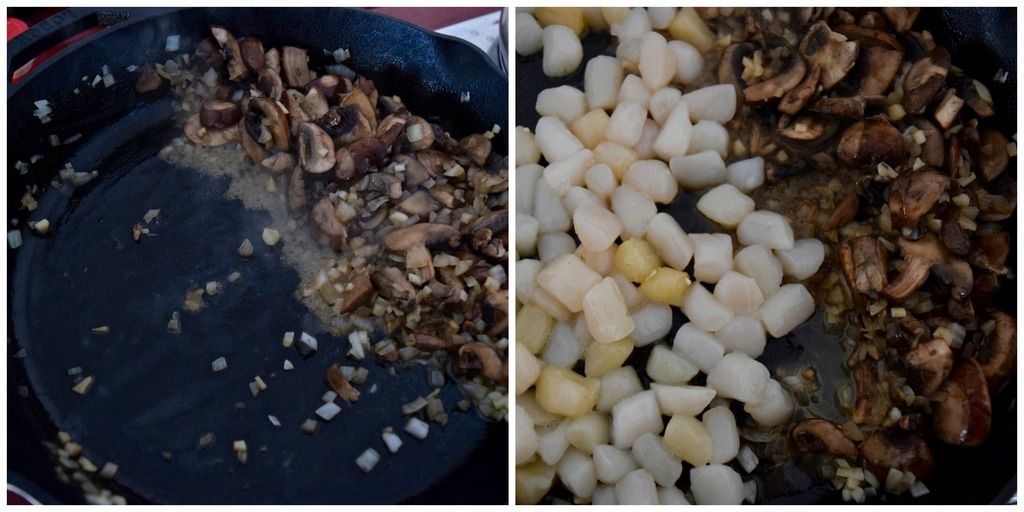 When the mushrooms are tender, move them to one side of the skillet. Move the skillet so that the empty side of the skillet is closer to the heat. On the empty side of the skillet, heat 1 tbsp of olive oil. Throw in the scallops and cook for about 5 minutes over medium heat. Remove from the skillet. Repeat again with the shrimp, using the 1 tbsp of olive oil.  Flip the shrimp after about 3 minutes and cook again on the other side for about 3 minutes. Remove the shrimp from the skillet.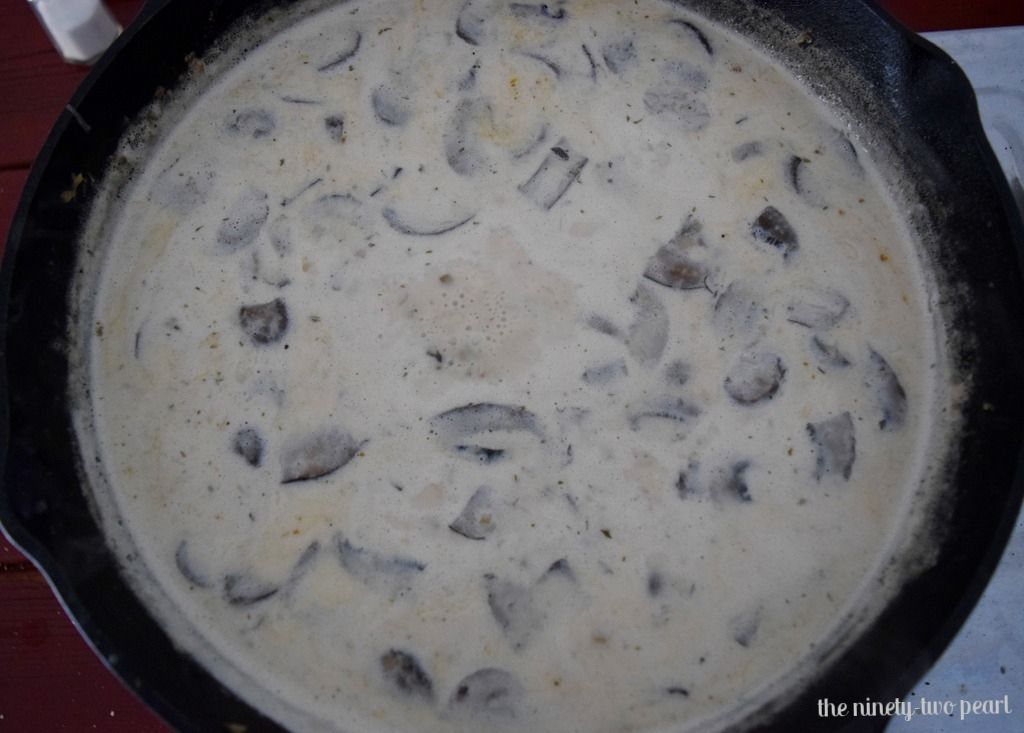 Move the skillet back onto the center of the heat. Add the heavy cream and chicken broth. Bring to a boil over medium heat. Simmer for about 8 minutes. Add the parmesan cheese and parsley. Let simmer for another 2 minutes. Season with salt and pepper.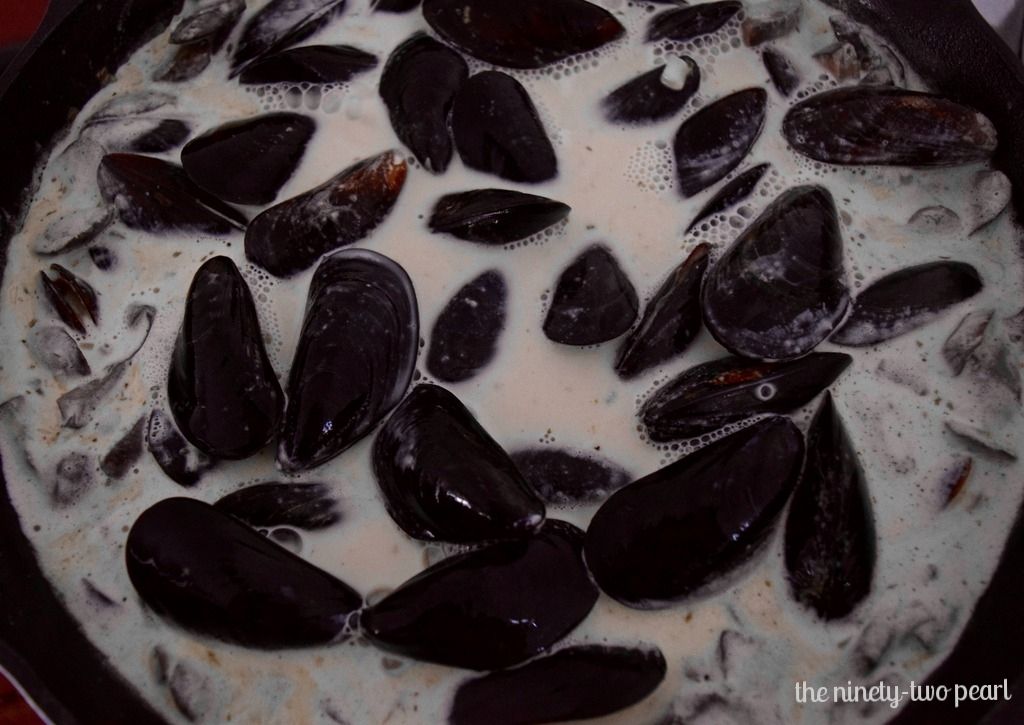 Add the shrimp, scallops and mussels back into the broth. Over medium heat, cover the skillet and allow the mussels to cook for about 5 minutes. Uncover when all of the mussels are open.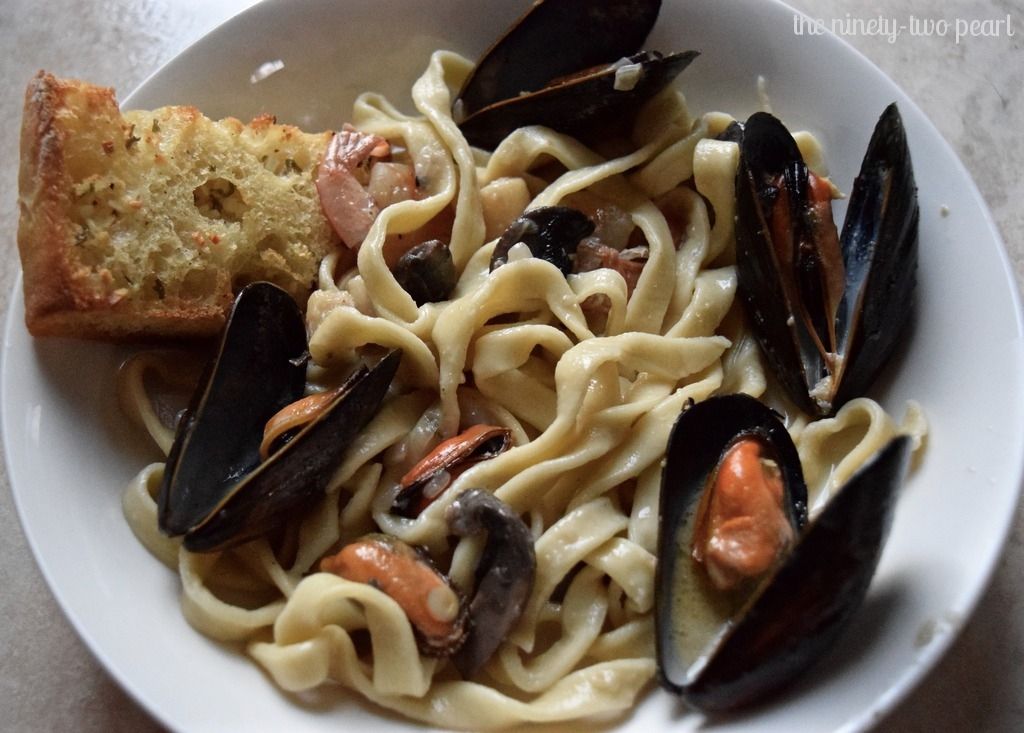 Serve over pasta or with a baguette.
---
Seafood Linguine in a Mushroom Cream Sauce
Ingredients
3 cloves of garlic
8 oz of mushrooms
1 small white onion, chopped
4 tbsp. of olive oil
2 cups of chicken broth
1 cup of heavy cream
1/3 cup of shredded parmesan cheese
1 pd of fresh bay scallops, slightly dried
1 pd of fresh shrimp, peeled and deveined
2 pds of mussels
1 tbsp of parsley
salt and pepper
Instructions
Heat 2 tbsp of olive oil in a large skillet over medium-high heat. Saute garlic and onion until fragrant. Add the mushrooms and saute for about 5 minutes until mushrooms are tender.
Move the mushrooms and onions to one side of the skillet. Add 1 tbsp of olive oil to the other side of the skillet. Add the bay scallops and cook for about 5 minutes on medium heat. Remove the scallops from the skillet.
Add 1 tbsp of olive oil to the same side of skillet. Cook the shrimp on that side for about 2 minutes, then flip when shrimp begin to change color. Cook for another 2-3 minutes. Remove from the skillet.
Return the mushrooms and onions to both sides of the skillet. Add chicken broth and heavy cream. Simmer for about 7-8 minutes over medium heat. Add Parmesan cheese and parsley.
Return the shrimp and scallop to the sauce. Add the mussels and cover for about 5 minutes or until the mussels have opened up.
Bring the heat to low. Season with salt and pepper. Serve over fresh pasta or with a crispy baguette.
http://theninetytwopearl.com/seafood-linguine-in-a-mushroom-cream-sauce/
---